5 Renovation Tips For Your Vacation Home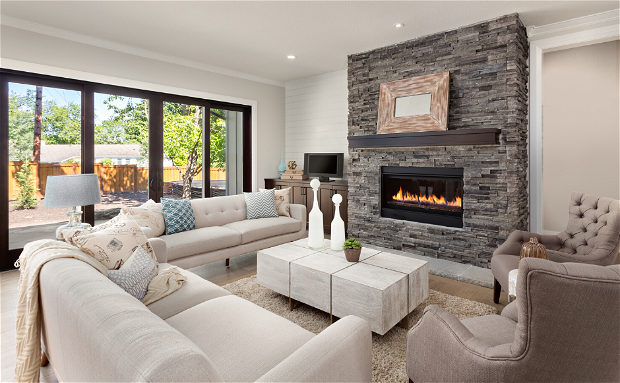 1. Many people like the "magazine look," but that is not necessarily their style. Before the project starts, ask yourself what colour scheme you prefer. Do you prefer pastels, like in the picture below, or bold colours, like the colour scheme above? Monochromatic or contrast? And what is your style? Do you prefer Traditional or Contemporary, Rustic, Bohemian, or Scandinavian modern? Or maybe you will feel comfortable with mixed styles to create your own? Remember, your vacation home reflects your personality.
2. Less is more, which means creating one focal point per room and avoiding a situation when furniture or finishes are competing. Be careful when you mix wood furniture with wood finishes. Make sure you do not introduce too many different wood types in one space, and if you do, brake them with neutral colours like in the below picture, where the designer did a great job using whites and grey, or use the same wood all through and introduce a piece of furniture made of different materials and add some colours, in the picture below, the blue looks fantastic.
3. The importance of functionality is that remembering your place could be stunning, but you will hate it if it doesn't reflect your lifestyle! Avoid clutter! Create a visual divide between spaces, and it is essential to keep an aesthetic theme that runs through the entire area to create unity, for example, a different shade of colour or a finish. Don't feel like all your furniture must be along a wall; pulling it into a living space will create a homier feel. In addition to that, live at your place comfortably. Make it warm and inviting. If you have children or pets, look for durable finishes and furniture, easy to clean. If your furry friend is white, avoid black furniture. Use good quality washable wall paint, avoid shaggy rugs, and ensure that flooring is not slippery, especially on the stairs, kitchen, and bathroom. Make your home safe and enjoyable for everyone.
4. Scale, too big and too small mistake. Sometimes, it is good to use a big piece of furniture or art to make a statement, but only if the space allows it. Make sure that your furnishings are proportional to the size of the space. The most common mistakes when it comes to scaling are a one, and too big sofa in the conversation area, too big dining table, out of proportion to the table dining chairs, area rugs too big or too small, window drapery too short or not having enough volume.
5. Importance of lighting. Light creates more than just visual effects (image, shape, intensity, perception, contrast, etc.); it also has biological and psychological effects that can impact health and wellbeing. It is essential to pay attention when choosing to light. In general, there are four types of lighting. The first is a General Lighting, which illuminates an entire area. It is essential to choose the right temperature for general lighting; too yellow or too cold light will negatively impact the colour of the walls, furniture, and finishes. It must not be dazzling for visual comfort. That is why it is good to have a dimmer to control the brightness. The next type is Task Lighting. The task light must deliver light uniformity. An example of a task light is a bathroom vanity light, under cabinet lighting in the kitchen and your desk light. The third type is Mood Lighting, a significant part of the overall design. Mood Light fixtures are placed in conversation areas, bedrooms, above the dining table, and kitchen islands. These light fixtures can emphasize the overall design style of your place. The fourth group is the Accent Lighting. Accent lighting creates intrigue and visual excitement on an accent point. It can illuminate up to 10 times more than the surrounding lighting. It is a great design tool.
We hope this helps you with your next vacation home rental renovation. However, if you would prefer to leave it to the professional, take a look at our exclusive design packages, which include a one-on-one consultation with our Interior Specialists to create the perfect design concept within your budget parameters.
Our Interior specialists are here to help make your vacation home rental stand out from the competition by creating the perfect space for your guests.