Travel Blog & News

BY ELEVATE VACATIONS

Tourism Whistler/Mark Mackay
10 Reasons Why Whistler Mountain Resort Is the Ultimate Ski Vacation Destination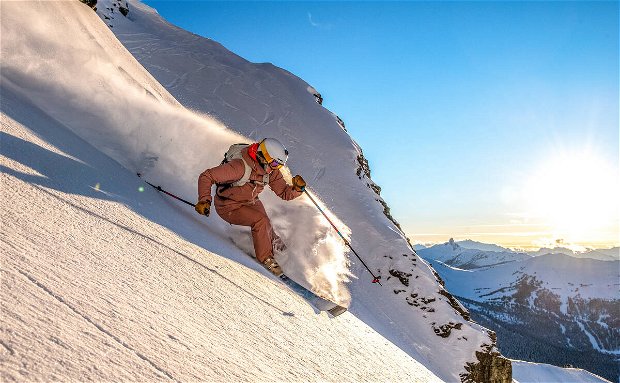 Tourism Whistler/Guy Fattal
Whistler Mountain Resort, nestled in the picturesque landscapes of British Columbia, Canada, stands as a premier destination for ski enthusiasts worldwide. From its breathtaking vistas to its exceptional amenities, this renowned resort continues to captivate the hearts of travellers. If you're contemplating your next ski vacation destination, here are 10 compelling reasons why Whistler should be at the top of your list.
1. World-Class Skiing and Snowboarding
Whistler Blackcomb, the joint ski resort made up of Whistler Mountain and Blackcomb Mountain, is set to open its slopes for the season on November 23. This early start to the season offers enthusiasts an extended period to enjoy the vast and varied terrain of these two renowned mountains.
Whistler Blackcomb's Skiing and Snowboarding Experience
The resort boasts an extensive ski area catering to both beginners and seasoned pros. With over 8,000 acres of skiable terrain, Whistler offers something for everyone, from gentle slopes for learners to challenging runs for the more adventurous.
Both Whistler and Blackcomb mountains collectively offer over 200 marked runs, three glaciers, and 37 lifts. Whistler Mountain is known for its long cruising runs and stunning alpine bowls, while Blackcomb boasts more steep and challenging terrain, making it a favourite for advanced skiers and snowboarders.
The interconnected mountains provide an unparalleled experience, with the Peak 2 Peak Gondola, an engineering marvel, seamlessly connecting the two mountains, offering awe-inspiring views during the ride and easy access to both terrains.
Book your Whistler Blackcomb lift tickets or buy your day pass here: whistlerblackcomb.com
Whistler Winter Wonderland | PC: Tourism Whistler/Justa Jeskova
2. Stunning Scenery
Tucked within the majestic Coast Mountains, Whistler offers a stunning panorama of snow-capped peaks, establishing an ideal backdrop for an unforgettable winter retreat. The magnificent views alone render this resort an essential destination for nature enthusiasts and passionate photographers. Moreover, our Whistler condos present the perfect vantage point to luxuriate in these breathtaking scenes from the snug comfort of your own condo.
3. Vibrant Village Atmosphere
Nestled at the heart of Whistler, the vibrant Whistler Village buzzes with energy and offers a diverse tapestry of experiences. Here, you'll discover not only cozy cafés, lively bars, and a myriad of shops but also a rich cultural milieu where local artisans showcase their crafts and musicians often enliven the streets with their melodies. The après-ski scene is a highlight, providing an animated ambiance for socializing, enjoying live music, and relishing delicious cuisine from a variety of restaurants that range from chic dining establishments to quaint local eateries. It's the perfect place to not only unwind after a day on the slopes but to engage in the lively spirit of the mountain culture, exchanging stories and forming lasting memories with fellow enthusiasts.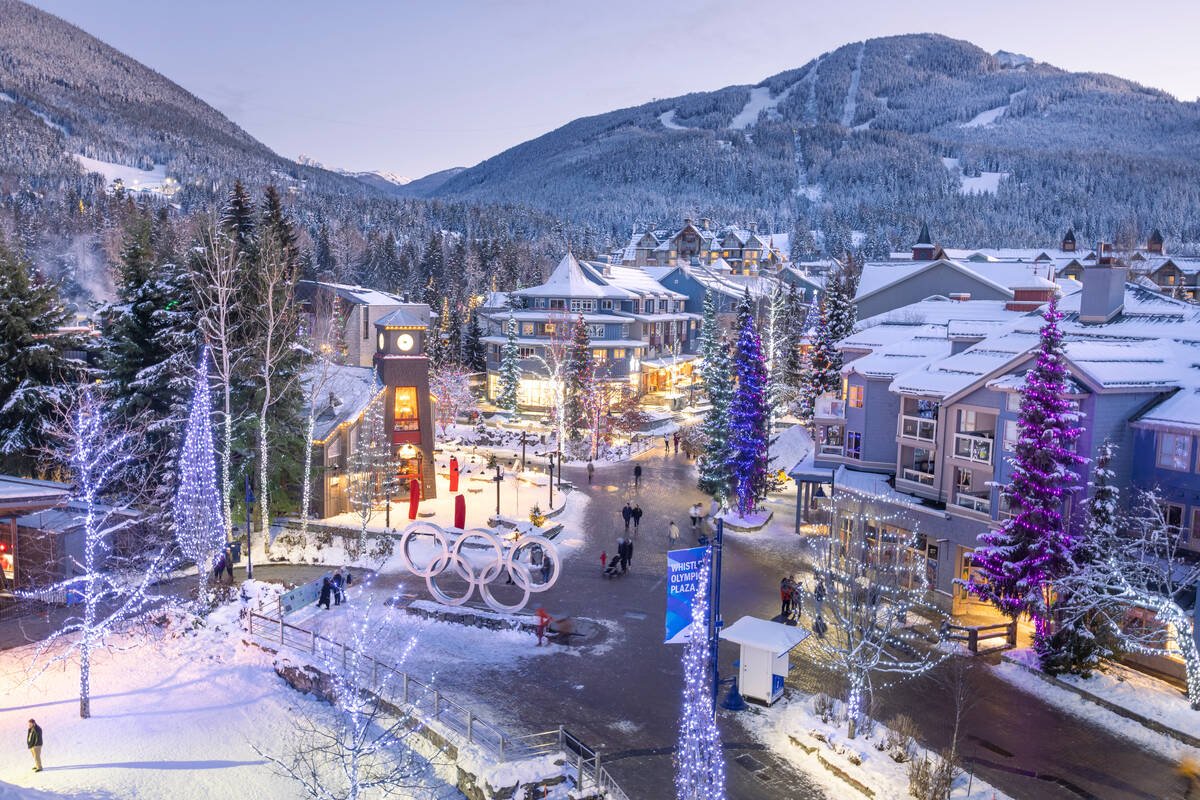 Whistler Mountain Resort | PC: Tourism Whistler/Justa Jeskova
4. Diverse Accommodation Options
Elevate Vacations in Whistler caters to diverse preferences and budgets. From luxurious lodges to snug cabins, our range of options ensures a tailored experience for every guest. Whether seeking a slopeside condo with stunning views or a roomy family vacation home, each lodging boasts premium amenities, including sumptuous beds, soothing hot tubs, inviting fireplaces, and fully equipped kitchens. Whether you're planning a family and friends' adventure or a romantic escapade for two, we have the ideal retreat to suit your needs and ensure a memorable stay for you and your guests.
5. Culinary Delights
Whistler's dining landscape is both expansive and remarkable, boasting a diverse selection of cuisines. Whether you're seeking a high-altitude après-ski experience or an elegant evening of fine dining, the resort hosts an abundance of choices to cater to every taste. For a vibrant après-ski scene, head to the lively establishments around the base of Whistler and Blackcomb mountains, such as the Garibaldi Lift Co. Bar & Grill or the Longhorn Saloon & Grill, where you can relish live music, share stories, and bask in the post-skiing ambiance. For a more refined dining experience, Araxi Restaurant & Oyster Bar or Rimrock Café offers exquisite menus and an elegant setting to indulge in top-tier cuisine after a day on the slopes.
For a complete list of restaurants, bars, and takeout spots, visit: Open Table Directory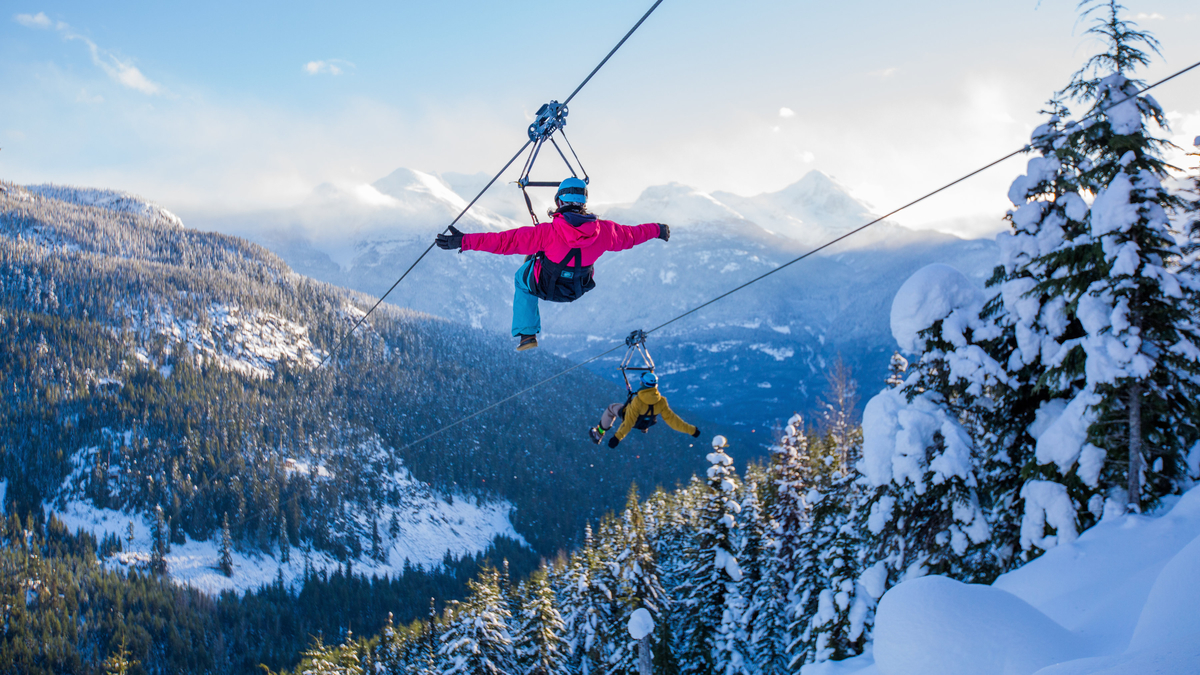 Ziplining on Whistler Mountain | The Adventure Group
6. Exciting Winter Activities
Thrilling Winter Adventures: Whistler extends well beyond skiing and snowboarding, offering an extensive array of winter activities to elevate your experience. Embrace the snow-covered wonderland by engaging in diverse adventures such as snowshoeing along the serene trails, embarking on exhilarating snowmobile rides through the backcountry, and experiencing the thrill of bobsledding on the Olympic track.
Additionally, ice skating at the Whistler Olympic Plaza or Lost Lake Park provides a charming and family-friendly activity amidst stunning surroundings. For those seeking a unique perspective, a scenic ride in a horse-drawn carriage through snow-laden paths offers a magical experience. Engage in the thrill of zip-lining over snow-laden landscapes or venture on a snowcat tour to explore the mountain's pristine terrains. With an extensive range of winter adventures, Whistler ensures there's something extraordinary for every snow enthusiast.
Use our guide to the best winter activities and plan your perfect adventure: Whistler Winter Activities
7. Family-Friendly Environment
Whistler epitomizes a family-friendly haven, offering an array of tailored programs for kids and an abundance of engaging activities suitable for all ages. Children can delight in specialized ski and snowboard lessons, while families can bond over snow tubing at Coca-Cola Tube Park or embark on a magical sleigh ride through the winter wonderland. This diverse range of family-centric adventures ensures lasting and cherished memories for everyone.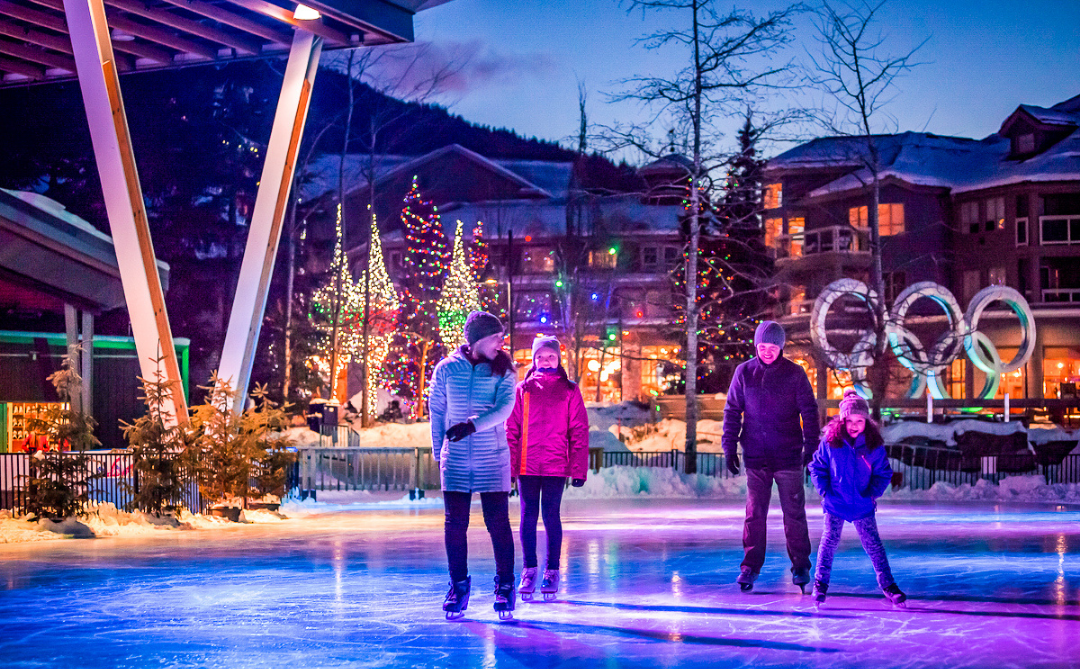 Ice Skating Whistler Olympic Plaza | PC: Tourism Whistler/Justa Jeskova
8. World-Renowned Events and Festivals
Whistler's winter calendar brims with an eclectic mix of globally acclaimed events, ensuring a vibrant and exhilarating stay. Delight in the rhythms of international music festivals such as the Whistler Music Festival or witness elite sporting competitions like the Ski and Snowboard Cross World Cup. Cultural celebrations like the Fire & Ice Show and holiday markets enchant visitors with their charm, offering a diverse tapestry of entertainment throughout the winter season.
Stay tuned to the Whistler Events page for a complete list of winter events and activities.
9. Top-Notch Amenities and Services
Whistler's resort amenities go beyond the ordinary, catering to every guest's comfort and convenience. Indulge in rejuvenating experiences at world-class spas and wellness centers, providing relaxation after an exhilarating day on the slopes. Additionally, the resort offers top-tier equipment rental services, guaranteeing hassle-free access to high-quality gear for an exceptional winter adventure.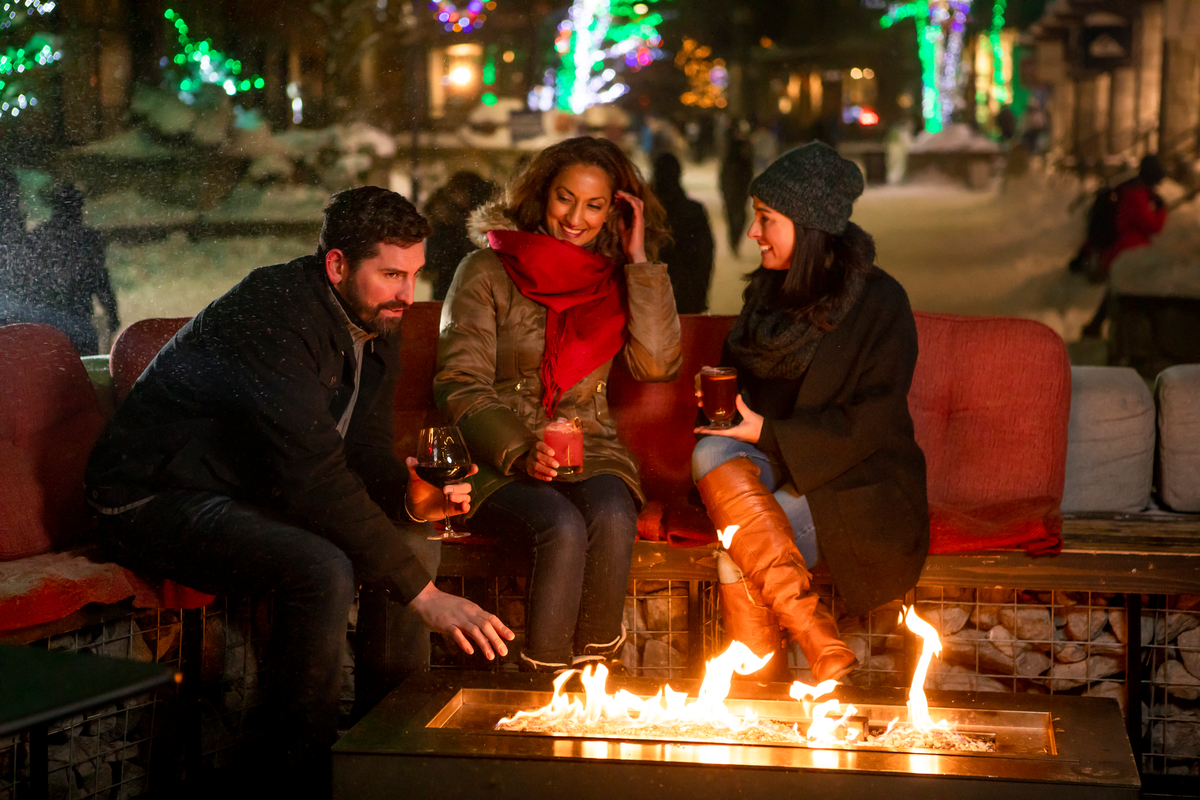 Après-ski in the Village | PC: Tourism Whistler/Justa Jeskova
10. Unparalleled Hospitality
At Whistler, the genuine hospitality of the locals and staff forms the cornerstone of an inviting and homely atmosphere. Embrace a sense of belonging as the amiable locals extend a warm welcome, ensuring a delightful stay. From personalized recommendations to engaging conversations, their dedication and approachable demeanour foster a sense of genuine connection and comfort, making your visit truly exceptional.
Now is the time to book your stay at Elevate Vacations
With all these incredible offerings, there's no better moment to secure your ski vacation at Whistler Mountain Resort. Elevate Vacations provides a wide array of Whistler accommodation options, ensuring that there's something for every need and budget. From cozy retreats to lavish accommodations, Elevate Vacations caters to your preferences, ensuring a memorable and comfortable stay. Book now and get ready for an extraordinary winter getaway at Whistler, where adventure and relaxation await!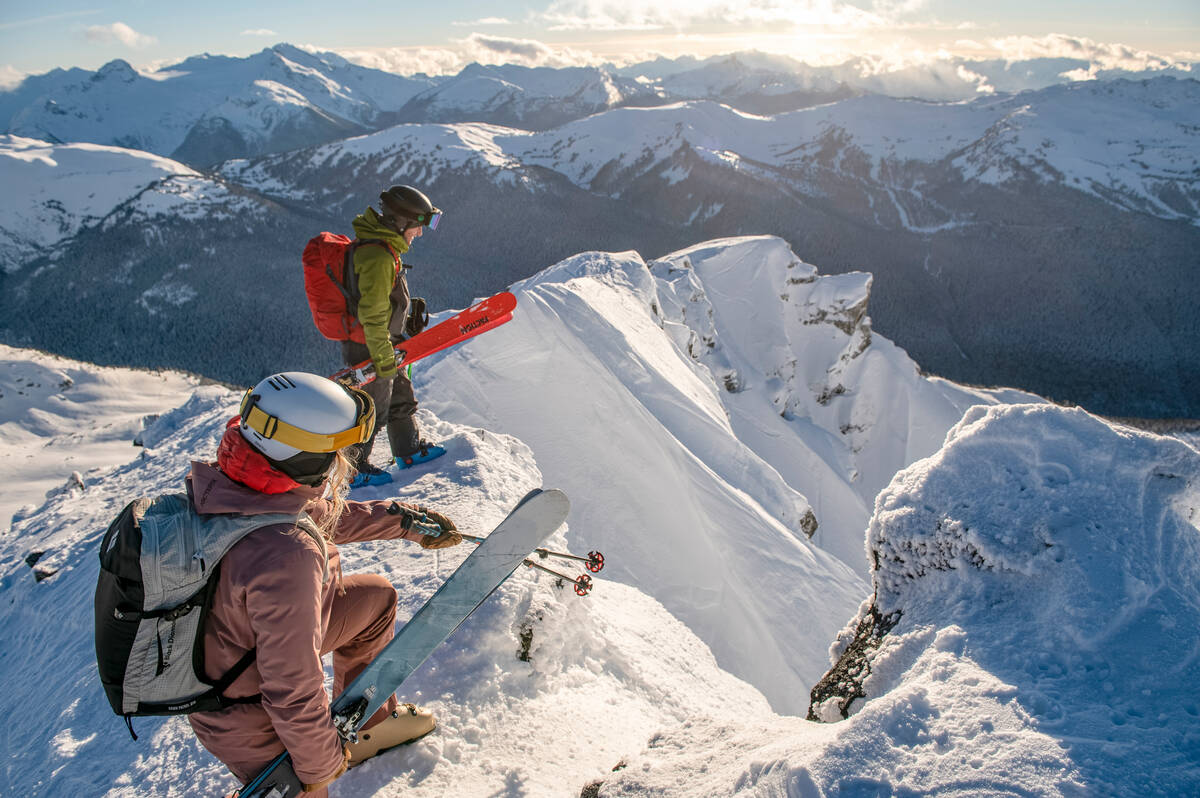 Whistler Ski Resort | PC: Tourism Whistler/Guy Fattal