Travel Blog & News

BY ELEVATE VACATIONS

Tourism Whistler/Mark Mackay
Whistler this Fall: A Paradise of Activities Awaits You!
Posted on Fri September 22, 2023.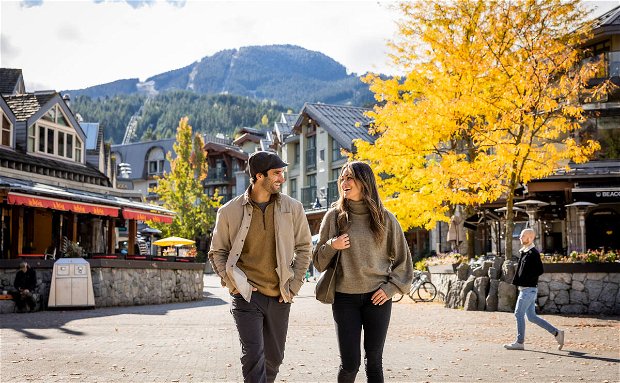 Tourism Whistler/Justa Jeskova
As the leaves begin to turn vibrant shades of red and gold, and a crisp chill fills the air, Whistler emerges as a fall destination like no other. Nestled in the heart of British Columbia's stunning Coast Mountains, Whistler is a year-round playground for outdoor enthusiasts. While it's renowned for its world-class skiing and snowboarding in the winter, the fall season offers a unique and equally captivating experience for visitors. In this blog, we'll explore the plethora of activities that make Whistler a must-visit destination this fall. And to make your stay even more memorable, Elevate Vacations offers a selection of cozy vacation homes and condos to call your home away from home.
Forest Creeks to Scenic Peaks
One of the best ways to immerse yourself in the breathtaking fall foliage of Whistler is by hitting the numerous hiking trails that crisscross the region. From leisurely strolls to challenging hikes, there's something for everyone. The famous Whistler Train Wreck Trail, with its colourful train cars hidden in the woods, is a particular favourite during this season.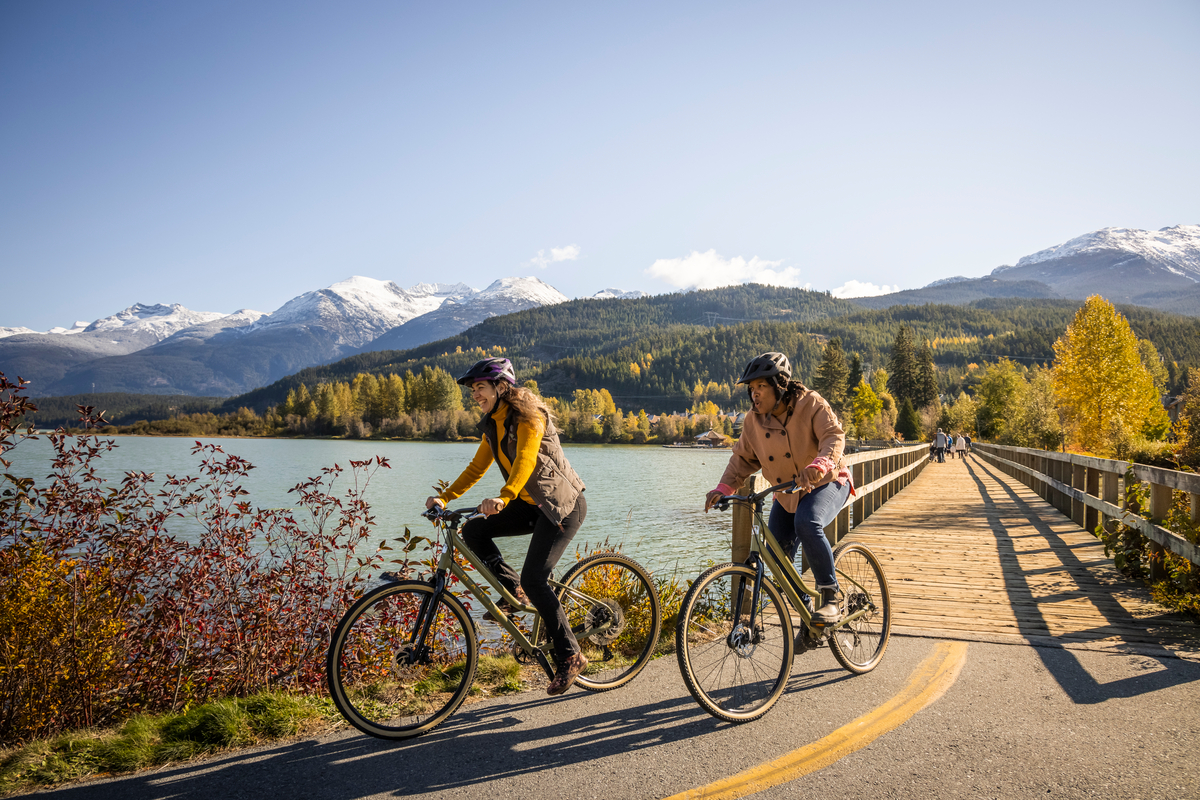 Whistler Valley Trail | PC: Tourism Whistler/Justa Jeskova
Downhill Daredevil or Leisurely Rides
If you're an avid cyclist, Whistler's extensive network of mountain biking trails awaits your exploration. Fall provides ideal conditions for biking, with cooler temperatures and fewer crowds. The Lost Lake Trails and the Whistler Mountain Bike Park offer thrilling rides amid the autumn scenery. If you're looking to rent a bike, contact any of our Whistler partners for the best rates. They can set you up with the perfect bike to suit your skill level and preferences, ensuring a smooth and enjoyable biking experience through Whistler's picturesque fall landscapes. Whether you're a downhill daredevil or prefer a leisurely ride through the woods, Whistler has the biking adventure you've been craving.
Important Notice: Whistler Mountain Bike Park closes on October 9, 2023.
Fewer crowds, Fall scenes, Tranquil Greens
For golf enthusiasts, Whistler boasts several world-class golf courses set against the backdrop of majestic mountains. Enjoy a round of golf at courses like the Fairmont Chateau Whistler Golf Club or the Whistler Golf Club, where the vibrant fall foliage creates a picturesque setting for your game. The advantage of golfing in the fall? Fewer crowds, fall scenes, and more tranquil rounds on the greens. The fairways are often bathed in the warm hues of autumn leaves, making every swing an opportunity for a memorable photo. Whether you're a seasoned golfer or a novice looking to try your hand at this sport, Whistler's fall golfing experience is unparalleled, combining the thrill of the game with the serene beauty of the season. It's the perfect time to perfect your swing and enjoy the crisp mountain air.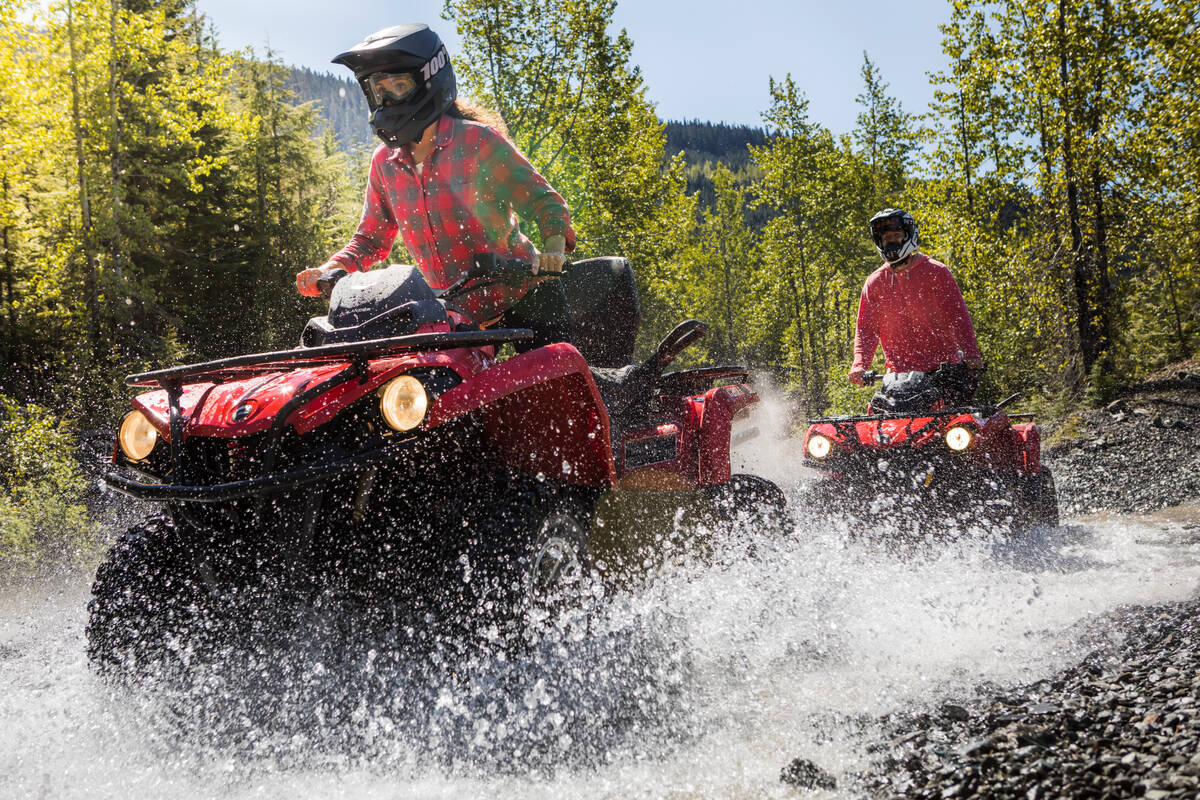 ATV & RZR Adventures | Tourism Whistler/Justa Jeskova
Seeking a Thrilling Adventure
For those seeking an adrenaline rush and a unique way to explore Whistler's rugged terrain, fall is an excellent time to embark on an ATV, Mountain Buggy/RZR, or 4X4 adventure. The changing colours of the leaves and the crisp mountain air create the perfect backdrop for an off-road escapade. Both The Adventure Group and Canadian Wilderness offer guided tours available for all skill levels, so whether you're an experienced off-roader or a novice, you can navigate the thrilling trails with confidence. Traverse through old-growth forests, cross bubbling streams, and ascend to breathtaking viewpoints where you can pause to take in the awe-inspiring vistas of Whistler's autumnal landscapes. It's a fantastic way to inject some excitement into your fall vacation.
Magnificent Creatures In Their Natural Habitat
Fall in Whistler is also an excellent time for wildlife enthusiasts. Black bears, eagles, and other wildlife are often spotted foraging in preparation for the winter months. Bear-watching tours at Whistler Photo Safaris offer a unique opportunity to observe these magnificent creatures in their natural habitat. Knowledgeable guides will lead you on an adventure to catch a glimpse of these awe-inspiring animals while ensuring their safety and yours.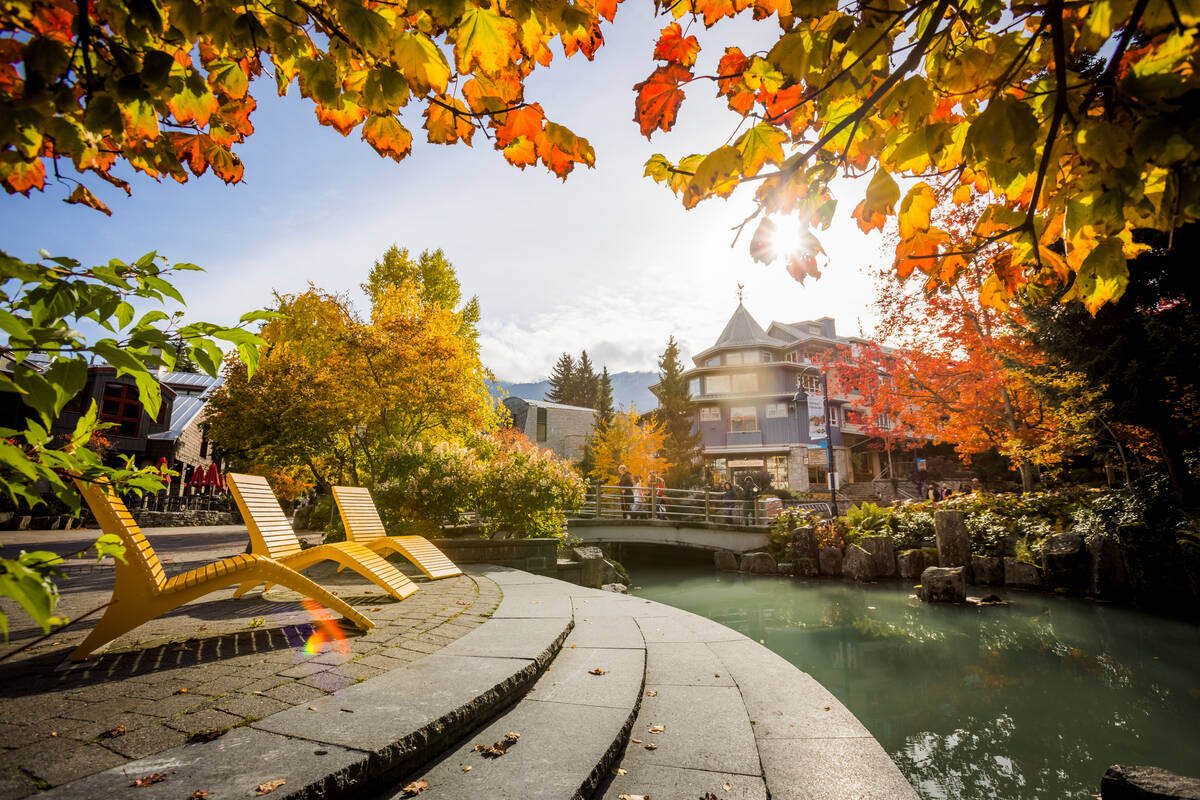 Whistler Village Stroll | PC: Tourism Whistler/Justa Jeskova
Village Strolls, Delicious Treats And Fall Sales
Whistler Village takes on a cozy and enchanting ambiance during the fall months. As you wander through the pedestrian-only streets adorned with charming fall decorations, be sure to make the most of the season. Take advantage of the Fall dining specials offered by a variety of eateries throughout the Village. Start your day with a visit to Pure Bread for delightful pastries and artisanal bread, or swing by Moguls Coffee House for a comforting cup of locally roasted coffee. For those seeking fine dining experiences, consider making reservations at renowned establishments like Araxi and Bearfoot Bistro, where gourmet cuisine meets an intimate ambiance. As you explore the Village's nooks and crannies, don't forget to peruse the fall-themed shop boasting huge sales, offering a chance to discover unique souvenirs and treasures that will forever remind you of your memorable visit to Whistler. Fall in Whistler invites you to immerse yourself in the perfect blend of relaxation and adventure, all while savouring the vibrant spirit of the Village.
Unwind And Pamper Yourself
After a day of outdoor adventures, indulge in well-deserved relaxation at Whistler's world-class spas. Scandinave Spa and Whistler Spa are two exceptional options that offer rejuvenating treatments and serene atmospheres. Scandinave Spa is known for its Scandinavian-inspired hydrotherapy experiences, including hot baths, saunas, and refreshing cold plunges, all set amidst a tranquil forest backdrop. Meanwhile, Whistler Spa offers a range of luxurious treatments, from massages to facials, designed to soothe both body and mind. Both spas provide the perfect opportunity to unwind and pamper yourself, ensuring that your fall getaway in Whistler is as rejuvenating as it is adventurous.
Cornucopia Whistler | PC: Tourism Whistler/Justa Jeskova
Whistler's Vibrant Autumn Calendar
Immerse yourself in Whistler's vibrant fall culture by attending some of the season's most exciting events. Start your day at the Whistler Farmers' Market, where artisans, farmers, and food vendors come together to offer a taste of the region's finest produce and crafts. Sip your way through the Whistler Wine Walk while enjoying the stunning autumn scenery. Dive into the world of literature at the Whistler Writers Festival, indulge in gourmet delights at Cornucopia Whistler, and cap off your autumn adventure with the cinematic magic of the Whistler Film Festival. These events provide the perfect opportunity to connect with the local community, explore the arts, and savour the flavours of fall in Whistler.
Elevate Your Whistler Experience with Elevate Vacations
To make the most of your fall getaway in Whistler, Elevate Vacations offers a range of cozy vacation homes and condos. Whether you're looking for a spacious townhome nestled in the woods or a modern condo with stunning mountain views, Elevate Vacations has the perfect accommodation to suit your needs. Enjoy the convenience of having your own private space while being just minutes away from all the fall activities Whistler has to offer.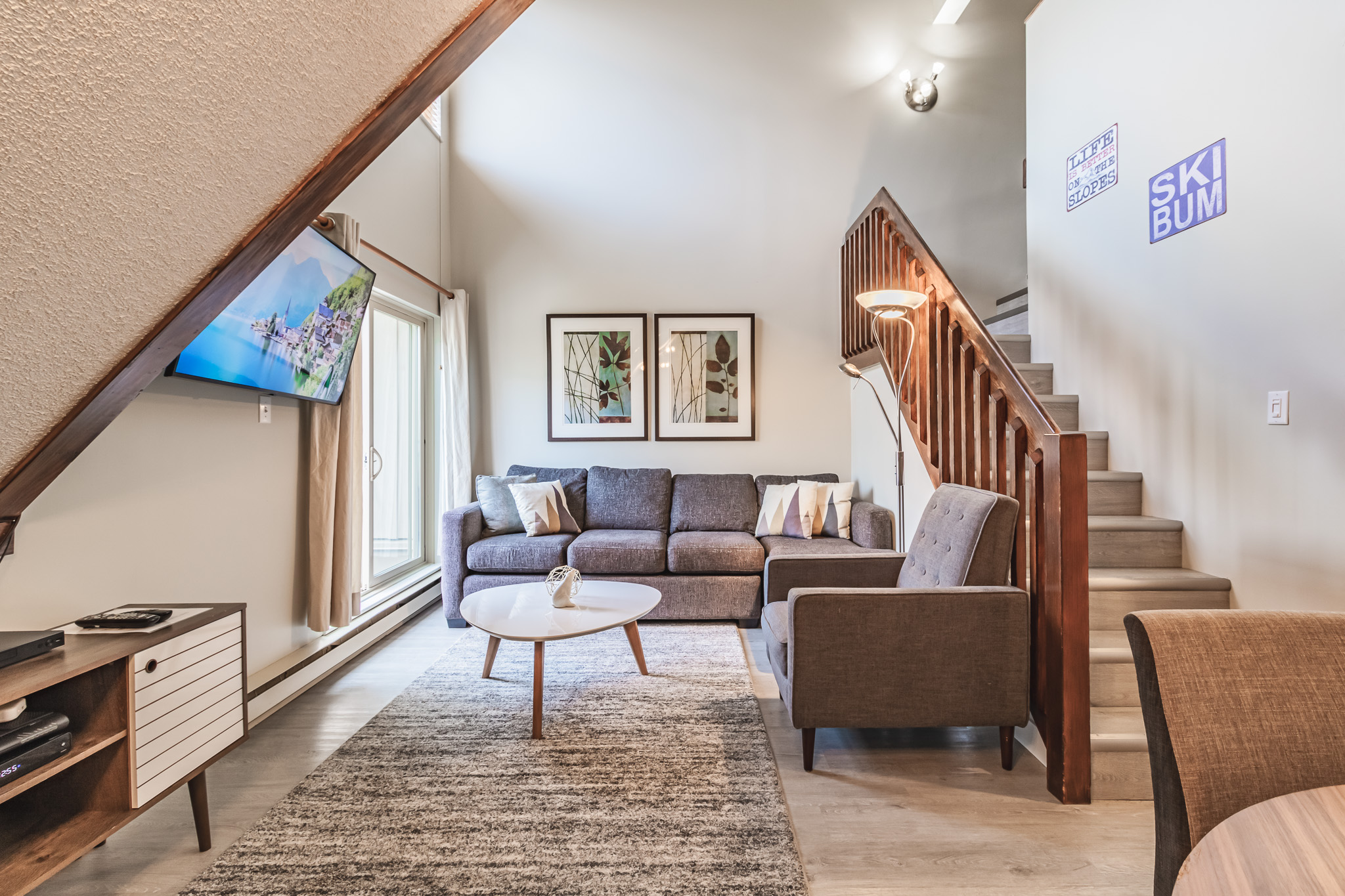 Elevate Vacations Condos | PC: Megan Nolte
Whistler in the fall is a magical destination that promises outdoor adventures, stunning scenery, and relaxation in equal measure. From hiking and biking to wildlife viewing and spa retreats, there's something for every traveller to enjoy. So, why wait? Book your stay with Elevate Vacations and embark on a memorable autumn journey in the heart of Whistler's natural beauty. Don't miss out on this opportunity to experience Whistler at its fall finest!