Whistler Mountain Resort

Your Most Memorable Holiday Awaits!

Tourism Whistler/Mike Crane
SAVE THE DATE - Whistler 2023 Highlights
Posted on Wed January 18, 2023.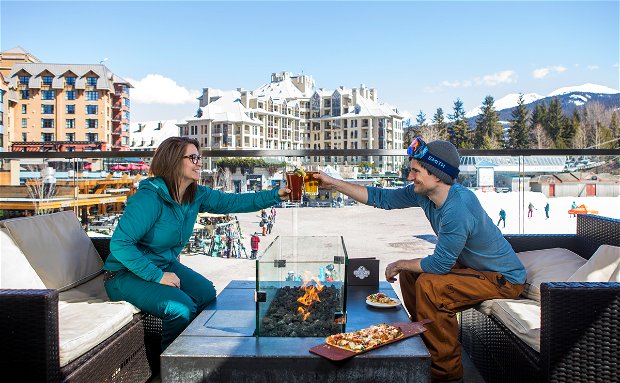 Tourism Whistler/Justa Jeskova
A New Year means new beginnings, new adventures, and most of all, new memories to be made, and there is no better place to tick off your adventure-wish-list than a Whistler Mountain Resort getaway!
From ski laps across the snowy Blackcomb peaks to sun-soaked days on the picturesque lakes, no matter the season, our magical little town has an endless menu of thrilling outdoor activities, delicious eateries and a non-stop lineup of events, concerts, festivals and races waiting for you to experience and enjoy.
We've put together a list of Whistler's top 2023 activity and event highlights so you can plan your stay and not miss a single beat of this year's jam-packed itinerary.
Mark Your Calendars - Signature Events in Whistler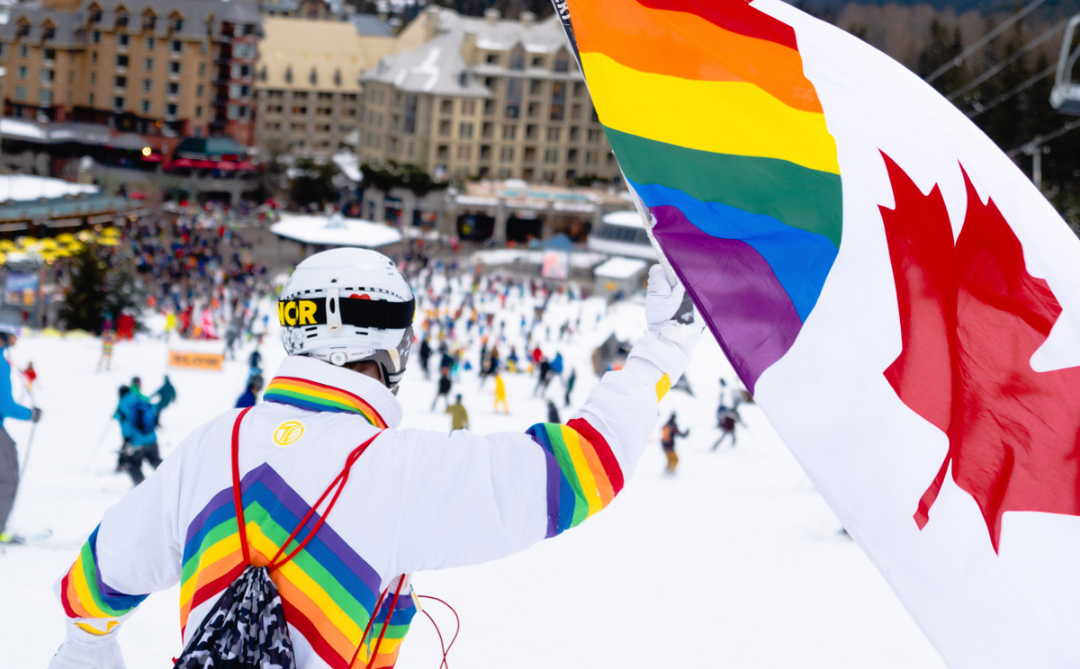 Whistler Pride and Ski Festival. Photo Credit: Jonny Bierman
Whistler Pride and Ski Festival, January 22 - 29: One of the biggest gay & lesbian ski weeks in North America. Enjoy a non-stop lineup of guided skiing, snowboarding, après, events and more.
Whistler World Ski & Snowboard Festival (WSSF), April 10 – 16: Experience the spring energy and Whistler's unique mountain culture, from ski and snowboard competitions to music, filmmaking, entertainment and the best skiing and après sessions of the season.
Whistler Street Entertainment. Photo Credit: Tourism Whistler/Justa Jeskova
Whistler Children's Festival, May: Free your imagination and create long-lasting memories with your little ones by exploring endless creativity with arts and crafts, dance parties, yoga, face painting, circus acts, magic shows and children's performers.
XFONDO Whistler, June 17: If you're excited about steep ups, plus winding and sometimes rocky descents, this event is the perfect fit. An all roads bike race featuring road, gravel, trail and dirt, framed by unreal mountain scenery and a ton of mud just waiting to be sprayed!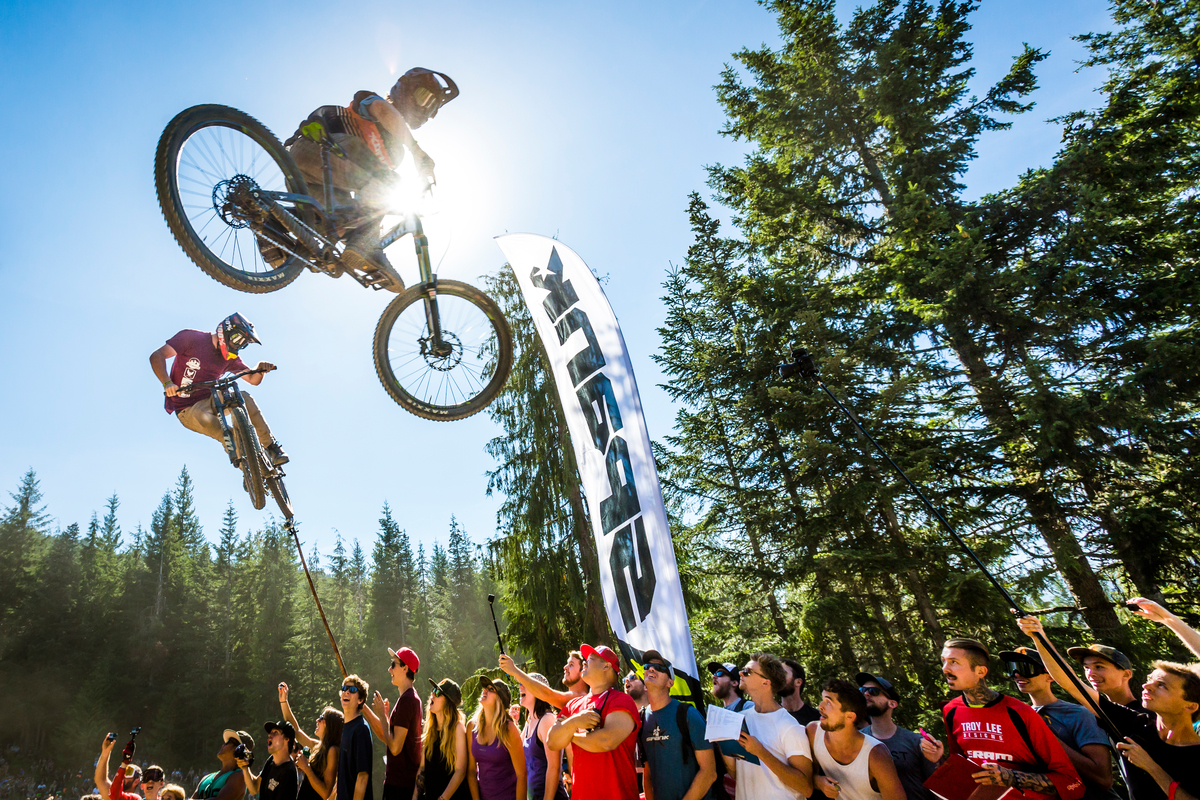 Mountain Bike Festival. Photo Credit: Tourism Whistler/Justa Jeskova
Crankworx Whistler Mountain Bike Festival, July 21 – 30: A world-famous festival celebrating the heart and soul of gravity-fuelled mountain biking. Experience 10 days of racing, slopestyle competitions, Kidsworx events, bike demos and the chance to shred Whistler's trails with other like-minded bike fans.
RBC GranFondo Whistler, September 9: Take part in or cheer athletes from around the world across the finish line as they race along the spectacularly famous Sea to Sky Corridor between Vancouver and Whistler. The event is family-friendly and open to all abilities.
Mountain Bike Festival. Photo Credit: Tourism Whistler/Justa Jeskova
Whistler Village Beer Festival, September: Grab your friends and enjoy six whole days filled with all things beer, including brewery tours, beer yoga, foodie events, live music, after-parties and, of course, beer sampling. 
Whistler 50 Relay & Ultra, October: Centred around the beautiful trails at Lost Lake Park, this exciting and challenging relay is open to all runners, with distances ranging from 10K to 50K. While your teammate is running, you can stroll through the Village and pick up a coffee or hang out in the beer garden to cheer them on.
Cornucopia Whistler. Photo Credit: Tourism Whistler/Justa Jeskova
Cornucopia Whistler, November: Open your palate to a month of bold tastes with lively food and drink tastings, intimate chef luncheons and winemaker dinners. Join us in the mountains to celebrate Whistler's world-class food and drink scene.
Canada's Coolest Film Fest, December: Features action-packed days of original films, world premieres, industry summits, talent programs, parties and special guest appearances by actors and directors. 
Find more information on our Events Calendar.
Ticking Off Your Winter Adventure List
Winter activities can be enjoyed from November to April.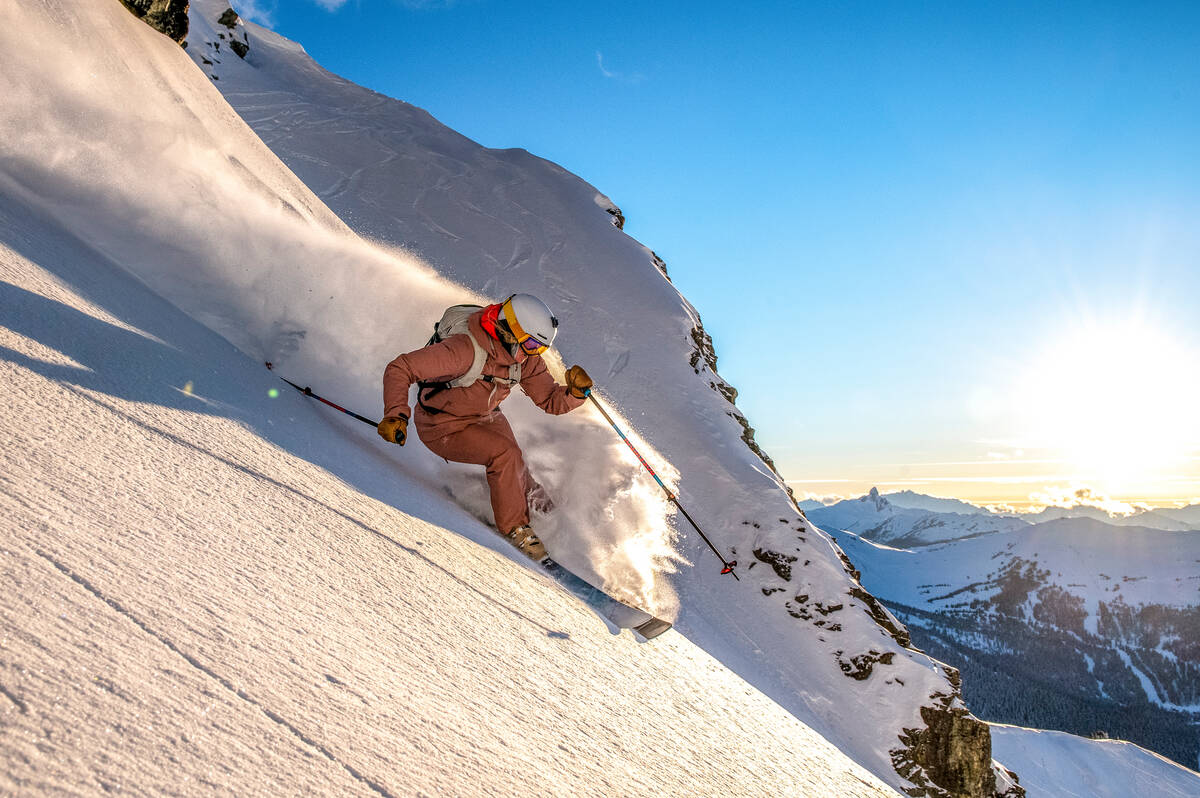 Big Mountain Skiing. Photo Credit: Tourism Whistler/Justa Jeskova
Voted as one of the world's top skiing destinations in North America, there is no doubt that Whistler and Blackcomb Mountains are a skierֹs dream destination. With over 8,100 acres of snow-covered slopes, 16 alpine bowls, three glaciers, world-class terrain parks and 200+ marked trails, there's an endless amount of adventures ready to be had on the slopes of Whistler.
Make the most of the snow with cross-country skiing in the stunning vistas of Whistler Olympic Park. 
Explore the wilderness as you snowshoe amongst the trees at Lost Lake Park.
Snowmobile Tours. Photo Credit: The Adventure Group
Get your adventure fix with a thrill-seeking snowmobile tour deep into the Callaghan Valley.
Catch a fish or two with an ice fishing experience on a frozen lake.
Slide like an Olympian through 10 twists and turns at 120+ km/h speeds in a real bobsleigh or solo on a skeleton sled.
Scandinave Whistler Spa. Photo Credit: Tourism Whistler/Justa Jeskova
Let all that stress and tension melt away on a thermal journey at Scandinave Spa.
Shoot down icy lanes on a rubber donut. Our friends at the bubbly™ Tube Park will have you screeching with fear and grinning from ear to ear! 
Find more information on our Whistler Winter activities list.
Ticking Off Your Summer Adventure List
Summer activities can be enjoyed from May to October.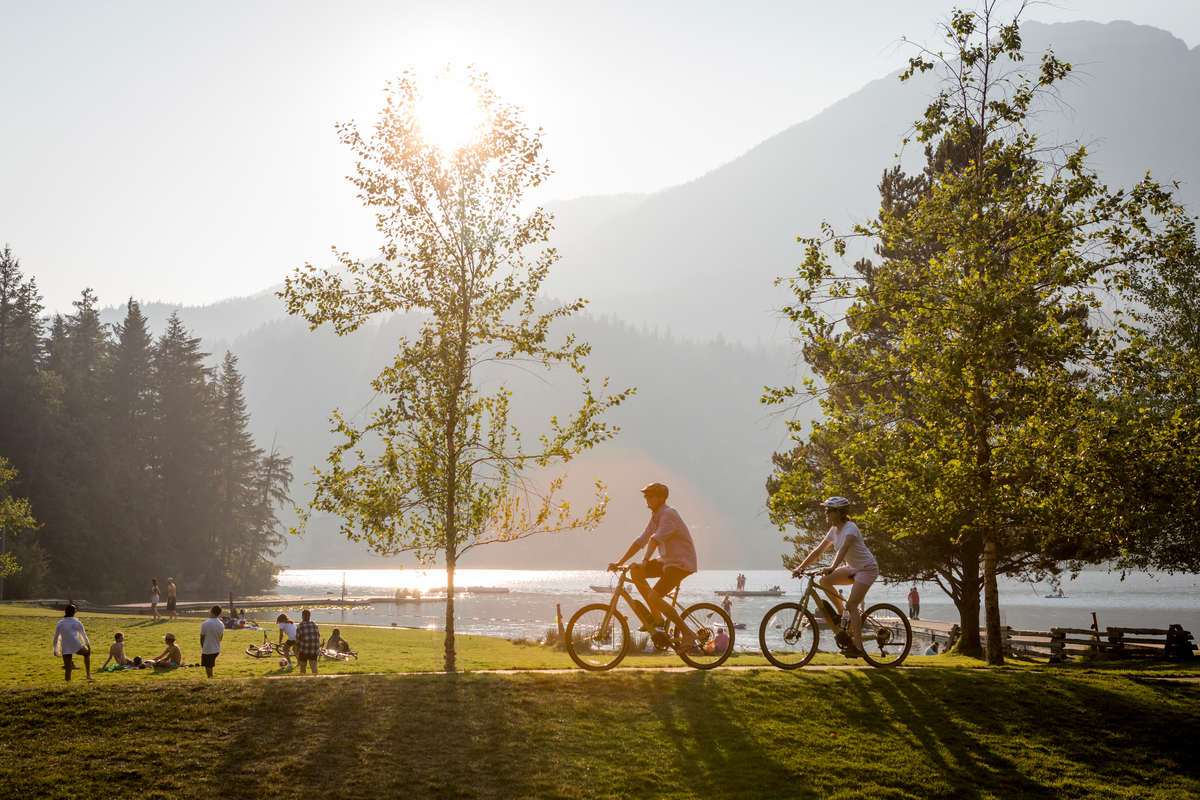 Whistler's Lake & Parks. Photo Credit: TTourism Whistler/Justa Jeskova
Exploring Whistler's parks, lakes and trails. Whistler has more than 45 km of Valley trail network. Enjoy a leisurely stroll, go for an early morning run, rent a bicycle or strap on your coolest rollerblades; whichever your pick, we guarantee your mountain views will be well worth it!
Dive into the wilderness with an exhilarating high-wire adventure at Ziptrek Tours on a mind-blowing Sasquatch® zipline, known to be one of the longest ziplines in Canada and the USA!
Exhilarating RZR Tour. Photo Credit: The Adventure Group
Take a front-row seat on an exhilarating RZR Tour as you explore the rugged trails that web through the backcountry of Whistler.
Enjoy Whistler's adrenaline-packed whitewater rafting experience that takes you just north of Whistler Village to the Green River.
Golfing in Whistler. Photo Credit: Tourism Whistler/Justa Jeskova
Take a swing and enjoy a round of golf at any one of Whistler's four major championship golf courses dotted throughout the valley.
Find more information on our Whistler Summer activities list.
Whistler's World-Class Food & Drink Scene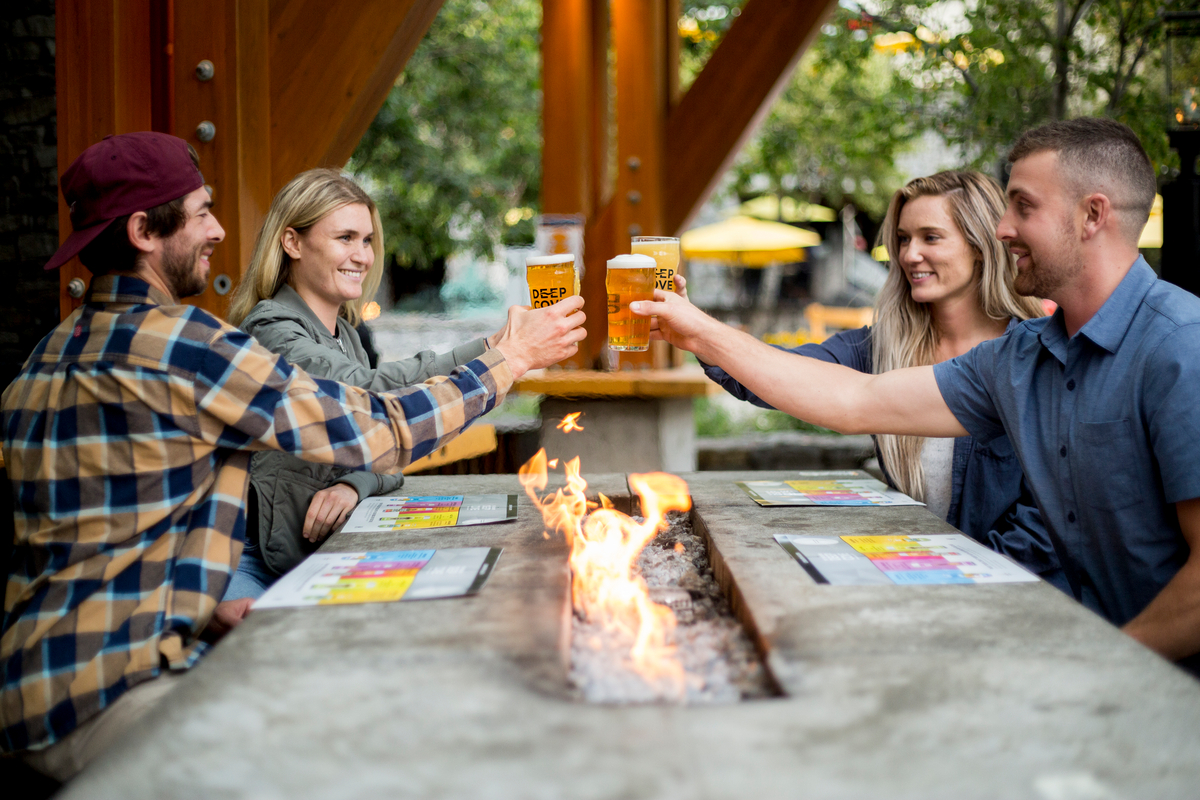 Après In The Village. Photo Credit: Tourism Whistler/Justa Jeskova
Whistler is a place to come together with friends and family, and there's no better way to do this than around delicious food, locally crafted beer, and après in the Village. Try something new every day with Whistler's endless menu of diverse dining scenes. From casual après-ski snacks to award-winning fine dining restaurants, many feature organic, locally-sourced ingredients. 
For a complete list of dining options, take a look at the Open Table Directory for all available restaurants, ready for you to enjoy!
Your most memorable holiday or weekend getaway in Whistler awaits! Remember to SAVE THE DATE and book early to get the best available dates and save on accommodation rates.