Explore Whistler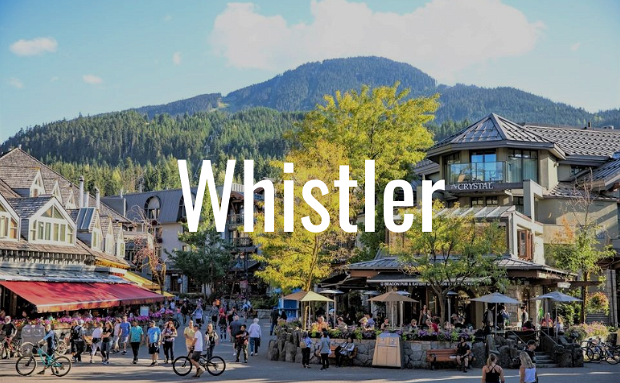 Experience the natural beauty and unique mountain lifestyle that Whistler has to offer. Plan and visit any season of the year, and you'll be welcomed by our Whistler family and swept up by the colourful culture of its Village life. Enjoy exhilarating adventures that will both inspire and challenge you - or relax and soak up the breathtaking mountain scenery. However you decide to spend your time in Whistler, you'll find yourself falling in love with its majestic views, wild fresh air and the energy of the Whistler locals.
Make The Most Of Your Whistler Stay
With an infinite range of mountain adventures and exciting activities on Whistler's stunning lakes and beaches, to an endless menu of local shops, cafes, bars and delicious fine dining cuisine, you can be sure that there is something here for you.
Discover Whistler's Activities
From summer to winter to all four seasons of the year, you can be sure to find your type of mountain adventure in the world-class, year-round Whistler resort. Your adventure awaits!
Whistler's sunshine season boasts an array of outdoor adventures. Experience the legendary Bike Park, award-winning golf courses, breathtaking glacier-fed lakes, lush forests, and waterfalls. A network of paved trails links all so you can discover Whistler at your own pace. From the deeply intense to the profoundly relaxing, summer is a season of endless choice.
Explore Activities
Whistler's winter wonderland experience is a truly magical one. From powder peak skiing days to warm memories made around the fire, skiers and non-skiers can relish the endless mountain adventures and Village activities this season brings.
Explore Activities
For a complete Resort Guide on what's happening in Whistler, download our on-the-go App.
Download
Get Your Gear
Needing to rent gear? From powder peaks to tacky mountain trails, no matter the season, our Partners have got you covered with Whistler's best value on premium ski, snowboard and bike rentals.
Whistler Travel Tips
Located in the spectacular Coast Mountains of British Columbia, Whistler is just a short two-hour drive north of Vancouver. Here are a few of the best options to get you to your home away from home.
Learn More
There is no need for a vehicle while on your stay. Enjoy the benefits of the local bus services, free shuttles, 24-hour taxi services, bike rentals or explore the Village and paved Valley Trails on foot. Getting around Whistler is simple and easy, with additional peak season services, express bus transfers to popular destinations and more.
TRANSIT SCHEDULES & MAPS