A Memorable Summer Awaits!

Whistler Tourism/Justa Jeskova
Whistler Summer Concert Series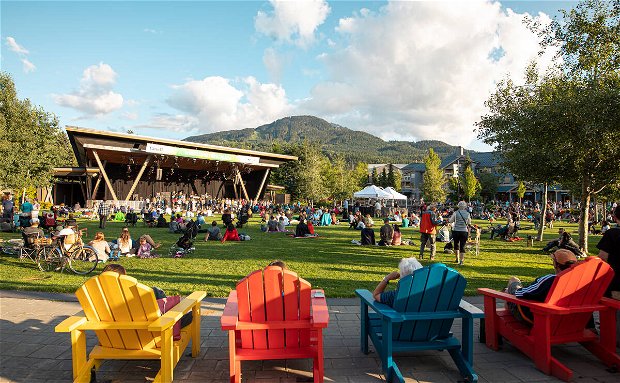 Tourism Whistler/Mark Mackay
Summer in Whistler is back and bigger and better than ever before! Kicking off on Canada Day, you'll see an exciting line-up of popular events, free yoga, all-ages entertainment and experiences along the Village Stroll, including the Summer Concert Series showcasing over the core summer months, featuring top local D.J.s and performers at the Whistler Olympic Plaza.
Whistler's endless menu of outdoor mountain adventures and jam-packed itineraries, with so many things to do, you'll need more than the weekend to enjoy it all!
Here's what you have to look forward to this summer:
Whistler Olympic Plaza. Photo Credit: Tourism Whistler/Mike Crane 
Whistler Summer Concert Series
Whistler's Summer Concert Series brings music back to the mountains and sets the stage for the return of large-scale live performances with joy front and center. The series encompasses 12 nights of shows over the core summer months and each evening's programming will start at 6:30 p.m. Arrive early and enjoy the vibe of live D.J. sets before the headlining performers start at 7:30 p.m. Complimentary secured bike parking is available. 
Canada Day Village Animation. Photo Credit: Tourism Whistler/Mike Crane
Explore and Experience Whistler
The Explore and Experience summer animation programming, produced by Arts Whistler, will return to showcase art, music, wellness activities, and entertainment events every week through July and August. Programming will follow weekly themes that capture Whistler's distinct vibe while showcasing unique experiences to both locals and visitors. Whether it is listening, learning, and reflecting on Canada's history with Indigenous people while participating in a community canoe carving project at the Squamish Lil'wat Cultural Centre, or chilling out in the Village, awash in a sound bath, each week will embrace a variety of themed immersive experiences designed to inspire. 
Canada Day Parade. Photo Credit: Tourism Whistler/Mike Crane
Canada Day – Week 1
Canada Day in Whistler will see the return of thoughtful opportunities for reflection, and popular events including a pancake breakfast, free yoga, all-ages entertainment and experiences along the Village Stroll, and an evening concert at Whistler Olympic Plaza. Whistler, originally known as Cwítima (Lil'wat) and Sk̲wik̲w (Squamish), is in the shared, unceded territory of the Lil'wat People and the Squamish People. As a community Whister will recognize July 1 as a time to reflect on all of Canada's history, including its past and present truths about our relationship with Indigenous peoples.
Don't miss - Community Reconciliation Canoe - A feature of the Summer Salish Carving Series in 2022 at the SLCC, people are invited to join an immersive experience led by Master Carver Ray Natraoro and SLCC Apprentices. 
Summer Concert Series Performer Details
Friday, July 1 - Sam Roberts Band
This beloved rock and roll band from Montreal has infectious melodies, deep lyrics and a live show that rocks. Their songs are blueprints for how to be properly alive and their fiery spirit make their live shows legendary, earning them spots performing everywhere from Austin City Limits and Lollapalooza to Bumbershoot, and alongside giants like the Rolling Stones and AC/DC.
Location: Whistler Olympic Plaza
Time: 6:30 PM
Artist: Sam Roberts Band
Thursday, July 7 - The Funk Hunters
D.J.'s, producers, hunters of funk. The Funk Hunters have cultivated their signature sound by creating forward-thinking electronic music influenced by old-school funk, soul, and hip-hop. The Funk Hunters enjoy a vibrant global touring career with major festival plays at Coachella, Life Is Beautiful, Osheaga, Burning Man, and Shambhala.
Location: Whistler Olympic Plaza
Time: 6:30 PM
Artist: The Funk Hunters
Friday, July 8 - Serena Ryder
This vocal powerhouse is a platinum-selling artist adored by fans, peers, and critics alike, in part due to her raw and earnest songwriting, and beautifully electric live performances. She has received numerous accolades, including the prestigious Canada's Walk of Fame Allan Slaight Music Impact Honour, seven Juno Awards, and the Margaret Trudeau Mental Health Advocacy Award.
Location: Whistler Olympic Plaza
Time: 6:30 PM
Artist: Serena Ryder
Thursday, July 14 - Stars
Indie pop/rockers, Stars have been performing for over 20 years with a storied catalog including nine albums and a number of E.P.'s. Nominated for two Juno Awards and two Polaris Music Prizes, Stars continue to prove themselves as some of the finest musical storytellers in the country, moving through life side by side with their fans.
Location: Whistler Olympic Plaza
Time: 6:30 PM
Artist: Stars
Friday, July 15 - Barney Bentall
Barney Bentall is loved globally for his band the Legendary Hearts, which, in over ten years in the '80s and '90s, had more than nine hit singles, won Juno Awards and achieved platinum status for multiple albums. Barney has just released his second 11 track solo album, "Cosmic Dreamer" and still has "something to live for," to borrow the title from an early hit. Whistler looks forward to welcoming him back.
Location: Whistler Olympic Plaza
Time: 6:30 PM
Artist: Barney Bentall
Thursday, July 21 - Tynomi Banks and The Bratpack
Canada's Drag Race alumni, the iconic Toronto drag entertainer Tynomi Banks and Vancouver Supergroup, The Bratpack starring Kendall Gender, Gia Metric, and Synthia Kiss, will all take the stage for an epic summer night of high energy hits, fabulous fashions and drag in the mountains.
Location: Whistler Olympic Plaza
Time: 6:30 PM
Artist: Tynomi Banks and The Bratpack
Friday, July 22 - Chin Injeti & introducing ZADA
Vancouver-based Grammy and Juno Award-winning artist and music producer Chin Injeti hits the stage for an evening of music with a special guest; up and coming, Ethiopian-born, Whistler-based artist, ZADA. Along with performing, Chin will introduce ZADA, who he has worked closely with over the last two years, to share her neo-soul-soaked songs at her first full-band hometown show. A show made all the more special as she performs on the eve of her 19th birthday. 
Location: Whistler Olympic Plaza
Time: 6:30 PM
Artist: Chin Injeti & introducing ZADA
Thursday, July 28 - Gurdeep Pandher
Gurdeep is best known for spreading hope and positivity during the pandemic through his joy-sparking, viral Bhangra dance videos set in the wilderness of the Yukon Territory. In this unique performance on Whistler's largest stage, the Bhangra artist and educator will share his best tips on finding joy in darkness, and blend a massive interactive Bhangra lesson for the audience with his own traditional Punjabi folk-dance performance. 
Location: Whistler Olympic Plaza
Time: 6:30 PM
Artist: Gurdeep Pandher
Friday, July 29 - Choir! Choir! Choir!
This Toronto-based singing group returns to Whistler Olympic Plaza with their non-traditional approach; there is no audition, and the audience is the choir. Founded in 2011, Choir! Choir! Choir! has amassed a dedicated and passionate community of singers and a thriving international fanbase on YouTube amassing 10s of millions of views on some of their videos. 
Location: Whistler Olympic Plaza
Time: 6:30 PM
Artist: Choir! Choir! Choir!
Thursday, August 4 - Ron Artis II & The Truth
Ron Artis II is a multi-instrumentalist who grew up in Hawaii among an exceptionally musical family. Ron has performed and collaborated with Mick Fleetwood, Jack Johnson, Booker T Jones, and G Love among others. If this wasn't a rich enough line-up of names, go spend a few moments reading the lyrics to Ron's songs. They are laced with intention, deep conviction, story, and a heart that has truly been there. 
Location: Whistler Olympic Plaza
Time: 6:30 PM
Artist: Ron Artis II & The Truth
Thursday, August 18 - DJ Shub presents "War Club Live"
Considered to be the Godfather of PowWowStep, DJ Shub won the 2022 Juno Award this May in the Contemporary Indigenous Artist of the Year category and has previously won Breakthrough Group of the Year in 2014 (with A Tribe Called Red). DJ Shub will present a dynamic live show of his critically acclaimed, chart-topping electronic Indigenous album "War Club Live". The show is a celebration of Indigenous music and culture and will feature special guests and Indigenous dancers in full regalia. 
Location: Whistler Olympic Plaza
Time: 6:30 PM
Artist: DJ Shub presents "War Club" Live
Thursday, August 25 - The J.B.'s
The original James Brown band will come together from across the United States to perform their horn-driven funk instrumentals. Known as the hardest working band in show business, The J.B.'s will bring that unique musical language The Godfather of funk, James Brown, gave to the world and make Whistler truly funky again.
Location: Whistler Olympic Plaza
Time: 6:30 PM
Details: The J.B.'s
With so many amazing shows to choose from, we're certain your summer stay will be the best one yet! The best part is that all of these shows are free to the public.
Thrilling ATV Tours. Photo Credit: Canadian Wilderness. 
Whistler Summer Activities
Not only will Whistler's jam-packed itinerary of entertainment keep you grinning from ear to ear, but there's also so many adventures to be had on and off the mountain. From hiking the snow walls, lapping Garbanzo Zone in the bike park, daring your friends on a thrilling ATV or bungee tour, or simply soaking-in some Vitamin D on a patio or at the lake, you're guaranteed a summer vacation unlike any other! 
For a more in-depth look at Whistler's Summer Activities, which the whole family can experience and enjoy, Check out our latest guide - Adventure Deeper This Summer Whistler.
"Make sure you pack your patience. Whistler's businesses are open and can't wait to serve you but are impacted by the current labour shortage. Please be kind to the people serving your food, checking you in and taking you out on tour; we're still in this together" - Whistler Tourism.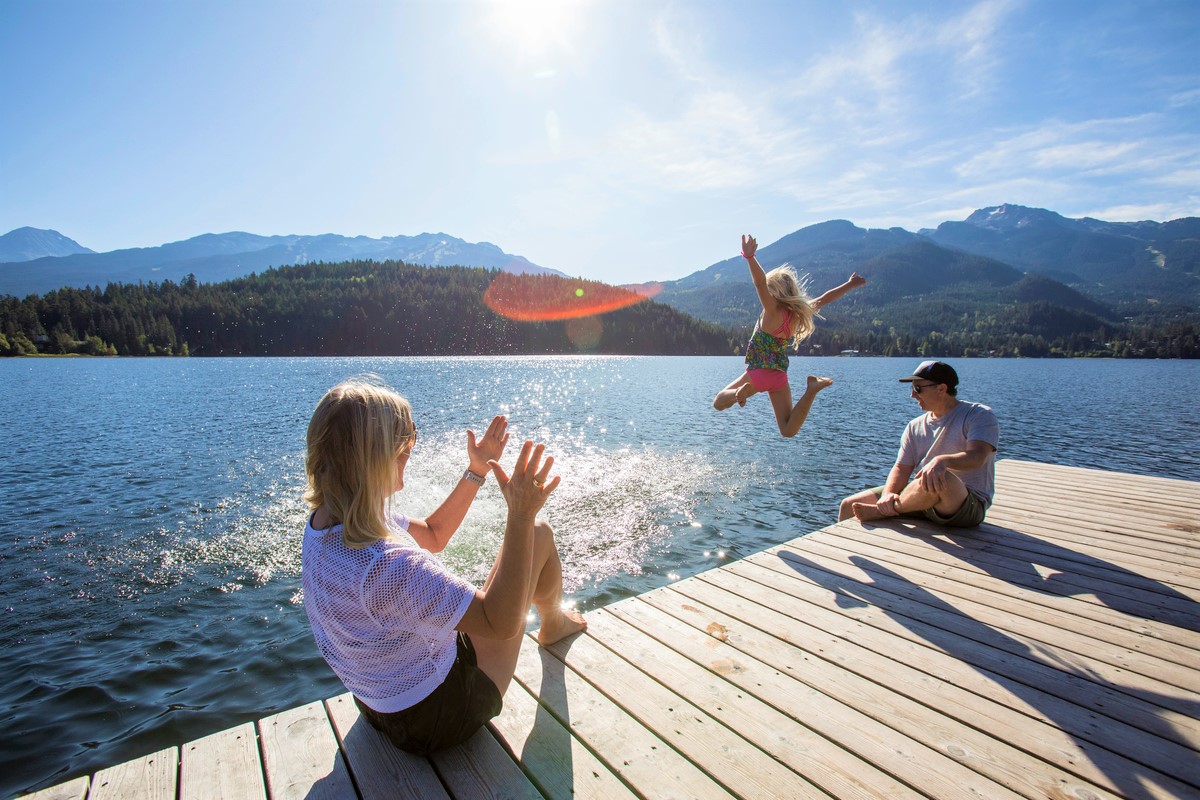 Book your Summer Holiday Today!
Our Whistler Summer Deals offer excellent value on accommodation with up to 15%* OFF, PLUS complimentary discount vouchers towards some of the TOP Whistler summer experiences you won't want to miss! At Elevate Vacations, we love to make everyone's experience memorable. If you have any questions, feel free to contact our Reservations Team, who would be happy to assist you in finding the perfect Whistler accommodations at the best rates and offers available - ms@elevatevacations.com or 1-800-665-5858.
Travel Updates
Whistler Covid-19 update: Health and safety remain top of mind for Whistler. Stay up-to-date with essential information for travellers to Whistler, including travel advisories, health and safety practices and proof of vaccination requirements. READ MORE