TOP Reasons Why Everyone Loves Spring in Whistler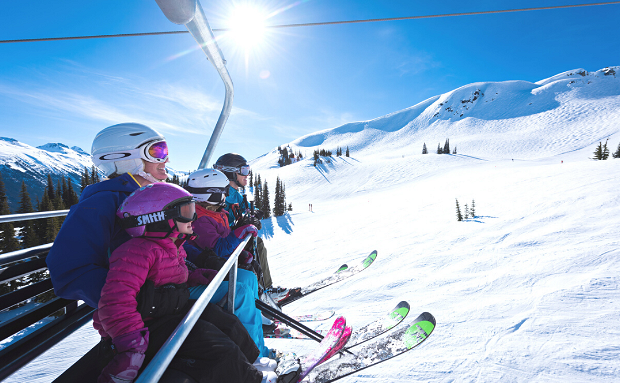 Sunshine, soft snow and epic Spring skiing are on the horizon, and Whistler's locals and travellers alike are more than eager to jump into this Season's warmer days and endless adventure-packed activities on and off the slopes. Here are the top reasons why everyone is so excited to be planning their Spring Skiing holidays and weekend getaways in Whistler.
Editor's Note: This blog was originally posted in 2022, so we've refreshed it with new events, ideas, images and links.
Maximizing on Whistler's 2-for-1 Season
Spring is a time of year when your options multiply. You can expect to experience the best of both Summer and Winter activities, all jam-packed into one trip! From powder days skiing the mountain peaks to lakeside activities while soaking up the vitamin D and endless trials waiting for you to explore by bike or foot, each month brings a little something special to maximize your vacation goals.
Ski Après at the peak. Photo Credit: Tourism Whistler/Mike Crane
What to Look Forward to Each Month
MARCH promises powder days and sunshine! Being the snowiest month on the peaks, you can enjoy longer days shredding the slopes of Whistler Blackcomb, with the mountain open from 8:30 AM – 4 PM (February 25 – April 16), with extended access on Blackcomb Mountain from April 17 – May 22, 10 AM – 4 PM. iI's the perfect time to pack your gear and plan for the ultimate Spring Skiing getaway.
APRIL serves up longer days with soft Spring snow. Pack your sunscreen, fewer layers and enjoy bluebird days on and off the slopes, followed by sun-soaked ski après on the mountain or in the Village where the vibes are always good. If you're planning a family trip for the Easter Holidays, you can look forward to plenty of family-friendly activities to create unforgettable memories.
MAY is the month to maximize on your adventure bucket list. The list of adventures grows fast with its dual-sport days as it warms up. Although Whistler mountain closes for the Season in late April, Blackcomb remains open. Enjoy mornings skiing in the soft snow and sunshine and your afternoons exploring the stunning lakes or endless Valley Trail activities that Whistler has to offer.
Spring skiing in Whistler. Photo Credit: Tourism Whistler/Guy Fattal
Spring Event Line-Up
World Ski & Snowboard Festival - April 10 - 16, 2023
WSSF in Whistler offers a non-stop line-up of events, activities and action both on and off the slopes. From ski and snowboard competitions to music, filmmaking, entertainment and the best skiing and après sessions of the season, there is no doubt that this is a must on anyone's Whistler bucket list! WSSF Details.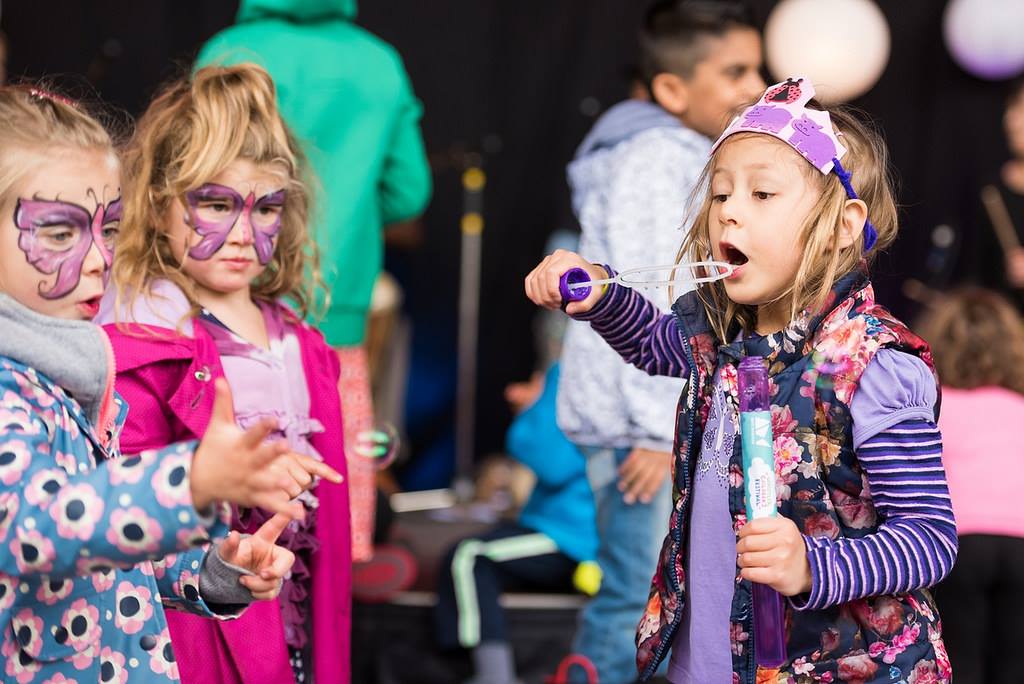 Whistler Children's Festival. Photo Credit: Tourism Whistler/Justa Jeskova
Whistler Children's Festival. May 19 – 21 & 27 – 28, 2023 
A fun-filled family event featuring an exciting line-up of arts and crafts activities, theatre, dance, music and magical performances throughout the Village and at the Maury Young Arts Centre. Whether you're visiting for the weekend or more, you can be sure to see your little one's face light up with happiness and excitement - Event Details.
Spring visits give you more room to roam, more bang for your buck, and quieter trails to explore.
Paddling on Whistlers Lakes. Photo Credit: Tourism Whistler/Justa Jeskova
Family Fun Activities
Canoe, Kayak and SUP 
Whistler is surrounded by many rivers and lakes, waiting for you to explore. Easily rent a canoe, kayak or SUP, and choose your adventure from gentle excursions on calm lake water to extended river trips while drinking in the magnificent mountain views and watching for abundant wildlife as you paddle.
Tree Adventure Tours
Grab the fam and journey through a spectacular network of suspension bridges, stairways, boardwalks and trails on the TreeTrek Canopy Walk. This tour is a family-friendly adventure for all ages and offers a magnificent birds-eye view of the ancient rainforest. And suppose you're looking for more of a thrill. In that case, The Adventure Group offers an exhilarating Aerial Obstacle Course that will have you conquering tightropes, a high-wire Superfly Zipline Tour and more!
Axe Throwing
This may be a year-round activity, but it's worth mentioning again for those unforeseen rainy days this Season brings. Axe Throwing is the most Canadian experience your will ever encounter! At Forged, you can enjoy an action-packed session with the fam that will have you nailing those bullseyes in no time. 
Exploring the Valley Trail Network. Photo Credit: Tourism Whistler/Justa Jeskova
More Memory-Maxing Adventures
Biking
Whistler offers a wide variety of riding options for all levels and tastes. Bring along your wheels or rent a bike in the Village and enjoy the Sea to Sky bike trails this Spring. By April, the snow's melted away, and you can take advantage of the tacky trails, fewer crowds, coolers days for longer rides and get some early-season trail riding in.
Be sure to keep up-to-date with the WORCA website for local trail conditions, and remember the Whistler Mountain Bike Park opening is usually mid-May.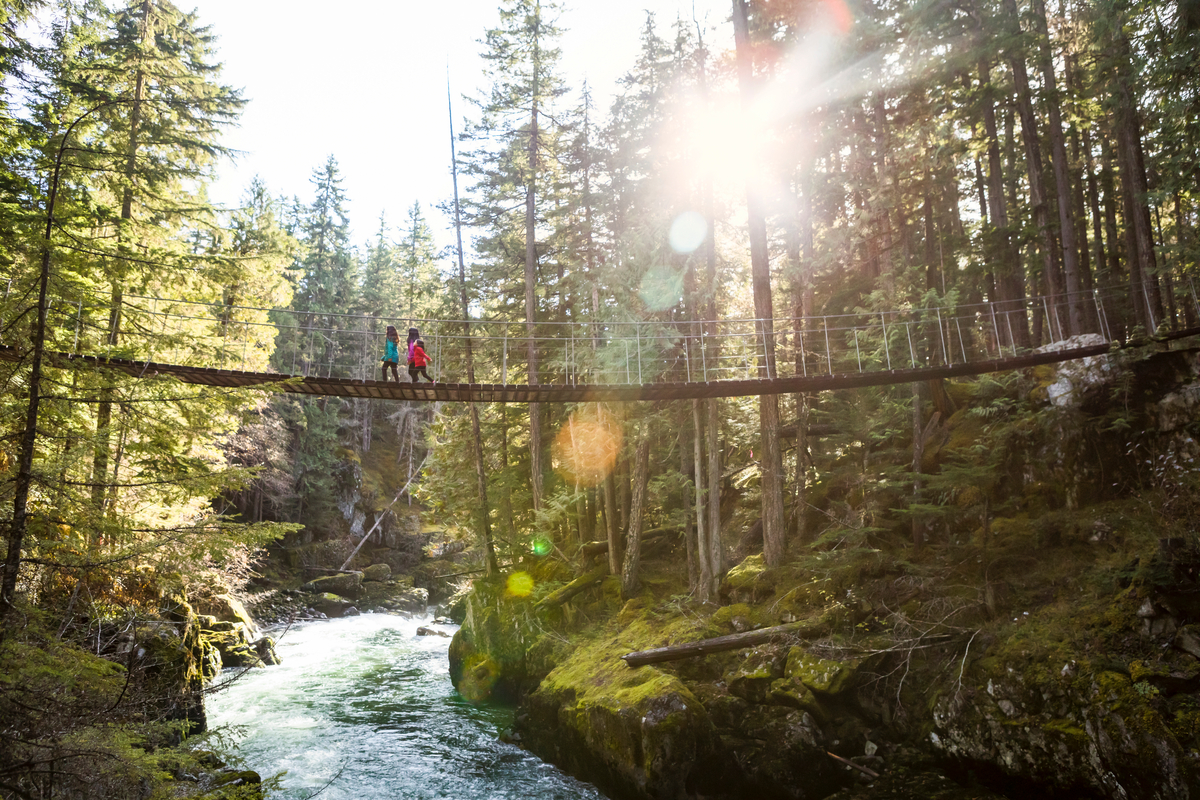 Family-friendly hiking. Photo Credit: Tourism Whistler/Justa Jeskova
Hiking Adventures
Hiking in Whistler is one of the topmost loved activities to do all year round. Springs' warmer temperatures in the valley make for a prime opportunity to explore the vast Valley Trail network that features over 40km of explorable terrain with beautiful views of Whistler's lakes, mountains and glacier-fed waterfalls. Some iconic Whistler hikes include; Iceberg Lake, Rainbow Falls and Cheakamus Lake, each uniquely showcasing spectacular views.
Insiders Tip: Be sure to pack your camera, enough water to keep hydrated and a small snack to sit and enjoy while you take in the views.
Visit the Local Bears in Whistler.
Meet the Local Bears
Spot Whistlers' famous bears with their adorable little cubs as they wake up from a long Winter hibernation and make their way to the surrounding forests to forage for food and other bear necessities. Remember to keep your distance, and if you want to get a closer look at our furry friends, we suggest a Whistler Photo Safaris tour, which will take you to the best bear viewing areas, feeding sites, daybeds and dens.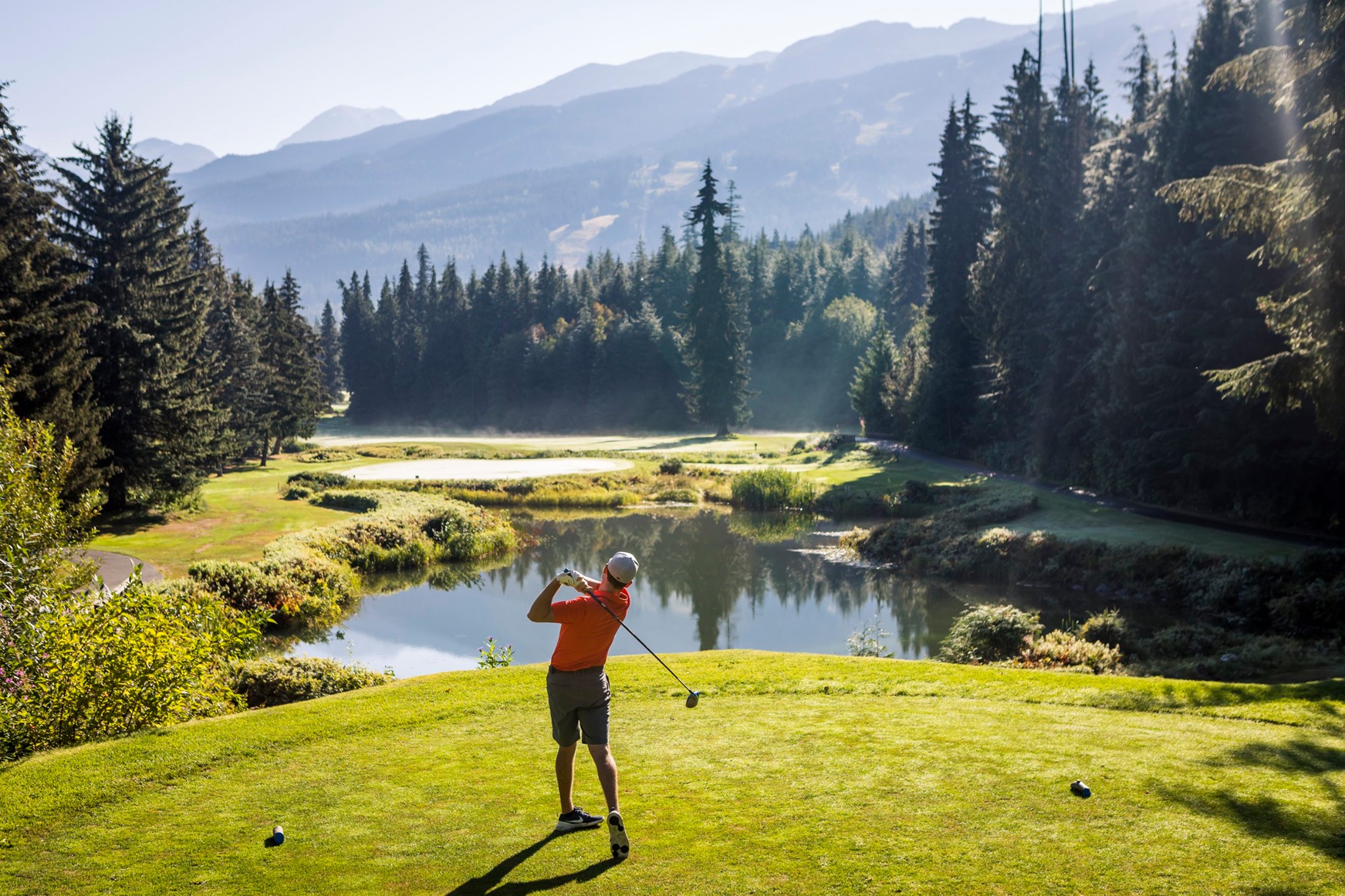 Golfing in Whistler. Photo Credit: Tourism Whistler/Justa Jeskova
World-Class Golf
Spring golfing is underway at any one of Whistler's four major championship golf courses by mid-May, each offering world-class greens and breathtaking scenes of the surrounding mountains. Each course provides various sets of tees to give every level of golfer an ideal sense of challenge and enjoyment, and the cooler temperatures allow you more time to master those shots without feeling the Summer heat. These top favourite courses include; Whistler Golf Club, Fairmont Chateau Whistler Golf Club, Nicklaus North Golf Course and Big Sky Golf Course.
Insiders Tip: Keep a watchful eye open for our furry friends, as the local bears seem to love the Golf Couse just as much as we do.
The Longhorn Saloon. Photo Credit: Abby Cooper/Gibbons
Between Spring skiing, early-season hiking, trail biking, and all of the above! You will need to give yourself plenty of time to play in Whistler's adventure-packed dual-sport Season. For a more in-depth look at all Whistler has to offer, Check out our Guide to the Top 5 Whistler Spring Activities you won't want to miss!
Don't miss out - Book your Spring Holiday Today!
Spring in Whistler offers excellent value on accommodation with studio suites from $125 CAD* per night. At Elevate Vacations, we love to make everyone's experience a memorable one. If you have any questions, feel free to contact our Reservations Team, who would be happy to assist you in finding the perfect Whistler accommodation at the best rates and offers available - ms@elevatevacations.com or 1-800-665-5858.