Plan Your Whistler Fall Getaway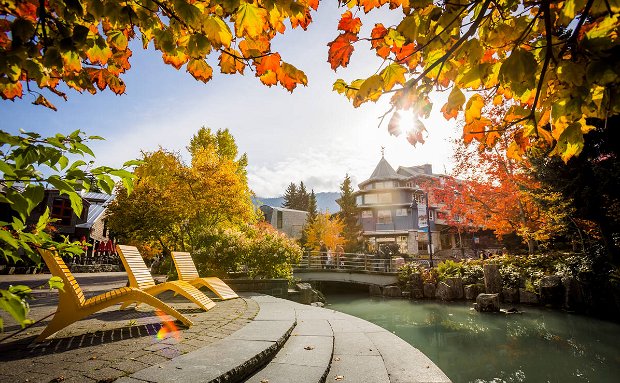 Tourism Whistler/Justa Jeskova
Fall is the season of crimson colours, scenic hikes and golden sunsets. Seasons in Whistler only change for the better, and fall is no exception -
With its abundance of fun-filled activities, festivals, special offers and unforgettable adventures waiting for you to explore and enjoy. Here's what you have to look forward to while staying with us this Fall.
Whistler's Fall Festivities & Events
There's always something on the go in Whistler, and the fall season is no exception. Take advantage of the non-stop lineup of events, concerts, and festivals and plan your stay according to the activities you don't want to miss! Here's a list of what you can look forward to this Fall.
Cornucopia Whistler. Photo Credit: Tourism Whistler/Mike Crane
Whistler Writers Festival, October 13 – 16, 2022 - Consider yourself a bookworm. If yes, then the annual fall Writers Festival is the event for you. Meet top Canadian and international authors, attend various workshops, speaker panels, and readings, and enjoy evening events with many great readers and writers alike. Book your tickets.
Thanksgiving in Whistler, October 10, 2022 - Nothing says Thanksgiving like a family holiday in Whistler, filled with traditional Thanksgiving feasts, adventure-packed activities, family-friendly entertainment and the epic early Whistler Turkey Sidewalk Sale. Grab your friends or loved ones and head up for the long weekend or choose to extend your stay and enjoy all Whistler has to offer this Fall.
Book a no-fuss Thanksgiving feast from Whistler Fridge Full, and enjoy a delicious roast turkey with all the trimmings to make you and your family feel at home. View Full Menu & Order Your Thanksgiving Feast Now!
Whistler 50 Relay & Ultra, October 15, 2022 - Centred around the beautiful trails at Lost Lake Park, the Whistler 50 is open to all runners, ranging from 10K to 50K. Whether you're a first-time relay participant or an experienced ultra-marathon athlete, there's something here for everyone. Find your team of 4 to 8 people, and enjoy a fun-filled active day racing to the finish line at Whistler Olympic Plaza. Website & Registration.
Cornucopia Whistler, November 4 – 6, 10 – 20 and 25 – 27, 2022 - November kicks off the annual Cornucopia Whistler Fest, celebrating Whistler's world-class culinary scene with food and drink experiences hosted by local restaurants and bars. Enjoy lively signature events, chef's table luncheons, drink seminars, and the culinary stage series. It's the event of the year! Join us in the mountains to experiment with your palate and expand your knowledge. Book your tickets now.
Discover Fall Colours on Whistler's Trails
A fresh dusting of snow across the mountain peaks and a vibrant, colourful pallet of fall foliage in and amongst the forests and trees make it one of the most beautiful times to go on an adventure hike and explore Whistler's mountain scene. Here are some of our favourite Whistler spots to explore and enjoy the fall colours.
Fall hiking on Whistler Blackcomb Mountain. Photo Credit: Tourism Whistler/Mike Crane
Brandywine Falls - This spectacular 70-metre waterfall, towering above Daisy Lake, makes for a breathtaking scene. Fall brings rich reds and vivid yellows, framing the powerful waterfall as the bright colours pop against the cliff face and crystal blue pool below.
Sea to Sky Trail to Green Lake - Take a day and explore the radiant fall hues as you venture out on this moderate bike trail stretching 190 kilometres, connecting the Pacific Ocean to the Coast Mountain Range. Reward yourself with a spectacular view by heading to the Green Lake lookout featuring stunning vistas, bright reds and yellows contrasting beautifully against the aquamarine colours of the glacier-fed lake.
Rainbow Park - Located on Alta Lake, this popular spot all year round offers a peaceful vantage point to take in the colourful hues of the season. Watch the snow slowly creep down the mountain while sitting on a park bench, sipping on your pumpkin-spiced latte.
Explore Whistlers Valley Trail Network this Fall. Photo Credit: Tourism Whistler/Justa Jeskova
Valley Trail and Fitzsimmons Creek Stroll - Explore Whistler's Valley Trail network, stretching 40 kilometres, connecting lakes, viewpoints, biking and hiking trails. Enjoy the vibrant fall foliage along the way, and be sure to stop at Creekside, Green Lake and Fitzsimmons Creek, revealing a beautiful spectrum of autumn colours.
Train Wreck Hiking Trail - The iconic Train Wreck hike features a handful of mangled railway boxcars scattered among towering cedar trees lining the Checkmus river. Over the years, artists have painted their art on these carts, making this as much of an art scene as it is a forest adventure. The wreck is a great trail to explore during the moody fall months while layered with wild mushrooms of all shapes, patterns and colours, popping against the earth tones of the forest.
Explore Whistler's Art Scenes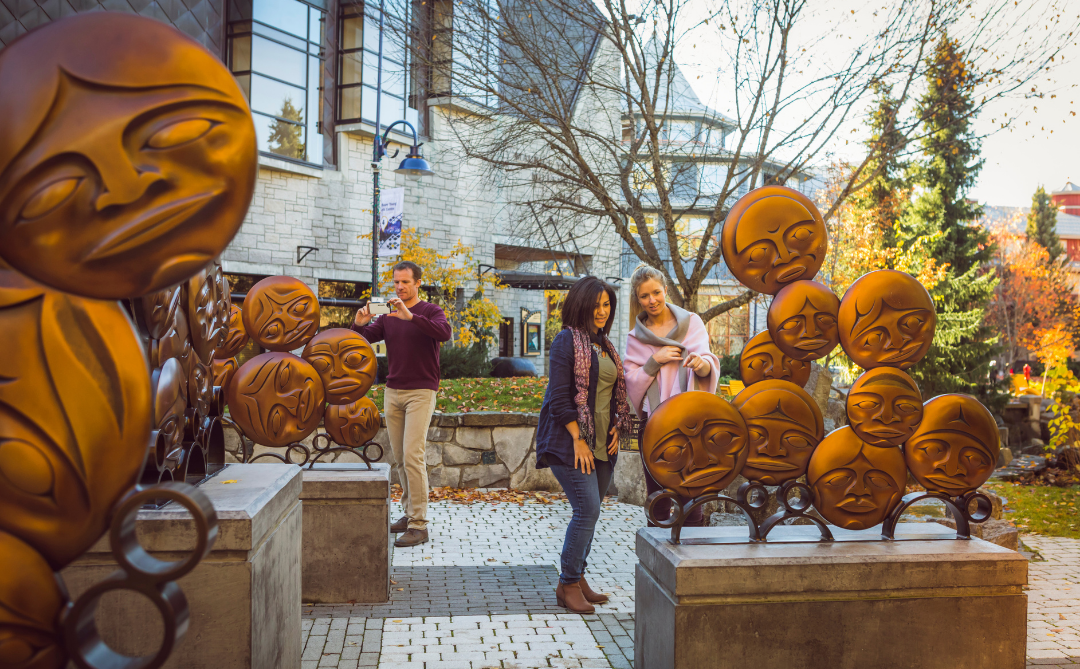 Discover Whistler's art scene on a self-guided art tour. Photo Credit: Tourism Whistler/Justa Jeskova
Whistler's vibrant arts scene flourishes throughout the year, with multiple galleries, local artists and tours, each overflowing with beautiful public art for you to enjoy at the most unexpected moments. While you're sipping on a warm cup of coffee, taking a hike in the forest, or walking along the Village stroll, there's something magical about stumbling across an incredible piece of art full of Whistler's rich history and culture. Take a look at the top twelve stops you won't want to miss on this self-guided art tour in Whistler this Fall.
Have Fun with Rainy Day Activities
Although sunny days are on everyone's must-have list while on vacation, some activities are way more fun on rainy days - we believe in getting the best out of both worlds! As the seasons shift this time of year, there are plenty of showery days ahead, so here are some ideas for making the most of the coastal weather that makes Whistler the lush, temperate rainforest it is.
Explore Whistler Mountains on an ATV Tour. Photo Credit: Tourism Whistler/Justa Jeskova
ATV Tours - Gear up and head out on a heart-pumping ATV Tour. Nothing beats the excitement of crashing through muddy puddles and creek crossings with your adventure buddies. Note that you'll be fully kitted in all the waterproof gear by the activity provider, so there's no need to hold back!
Forged Axe Throwing - Grab your friends or challenge your family to a game of Forged Axe Throwing. This indoor activity is the perfect way to stay indoors and enjoy an action-packed session that will have you nailing those bullseyes in no time. As a bonus, two breweries are ready for you to quench your thirst after the game.
Whistler First Nations People. Photo Credit: Squamish Lil'wat Cultural Centre/Logan Swayze
Whistler Arts & Culture - Rainy days provide the perfect opportunity to soak in some local culture. Head to Squamish Lil'wat Cultural Center, where you can learn about the local First Nations people's history, art, and culture. Get an in-depth view of the ski history in this small town at the Whistler Museum. Or take an afternoon stroll through the halls of the Audain Art Museum, its mesmerizing architecture and incredible Canadian art collection will give you hours of entertainment.
Relax & Rejuvenate in the Mountains
When people think of Whistler, what comes to mind is the endless mountain scenes, adrenaline-induced adventures and outdoor exhilaration. Whistler is all of that, but also more. Whistler offers over 20 spa facilities, each with a wide range of pampering treatments and the perfect facilities to rejuvenate and recharge after a day spent exploring the mountains and thrills. Here are our favourite spots to take in the fall scenes while enjoying that much-needed R & R.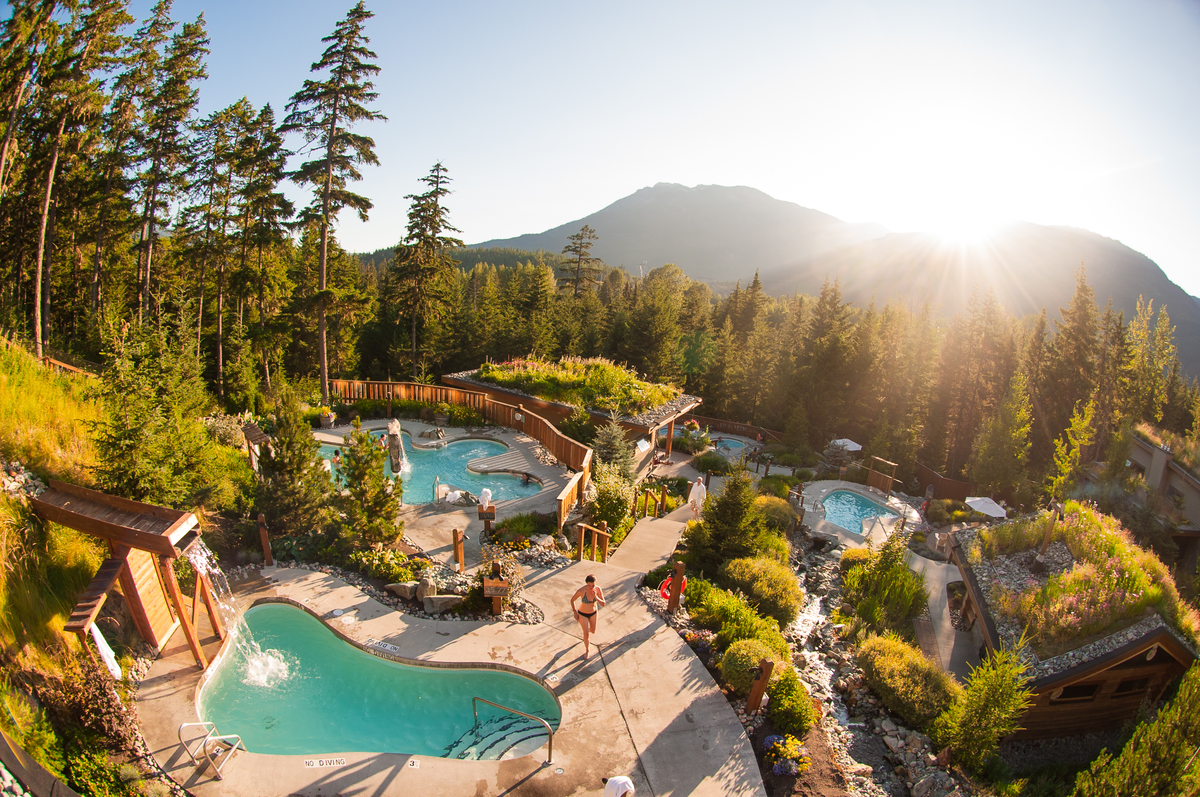 Reset at Scandinave Spa Whistler. Photo Credit: Tourism Whistler/Chad Chomlack
Scandinave Spa Whistler - Take a day soaking in soothing outdoor hydrotherapy baths, alternating between the traditional Nordic hot, cold, relax cycle for the complete experience. This quiet sanctuary combines rustic elegance with majestic fall scenery in a tranquil, secluded setting.
Vida Spa - Vida in the Fairmont Chateau Whistler offers an extravagant list of spa treatments, from hot stone massages to full-body tune-ups with access to pools, hot tubs, a steam room, sauna and, of course, the poolside bar. The best part, it's ideal location makes it the perfect stop as you head off the mountain after an adventure-packed day.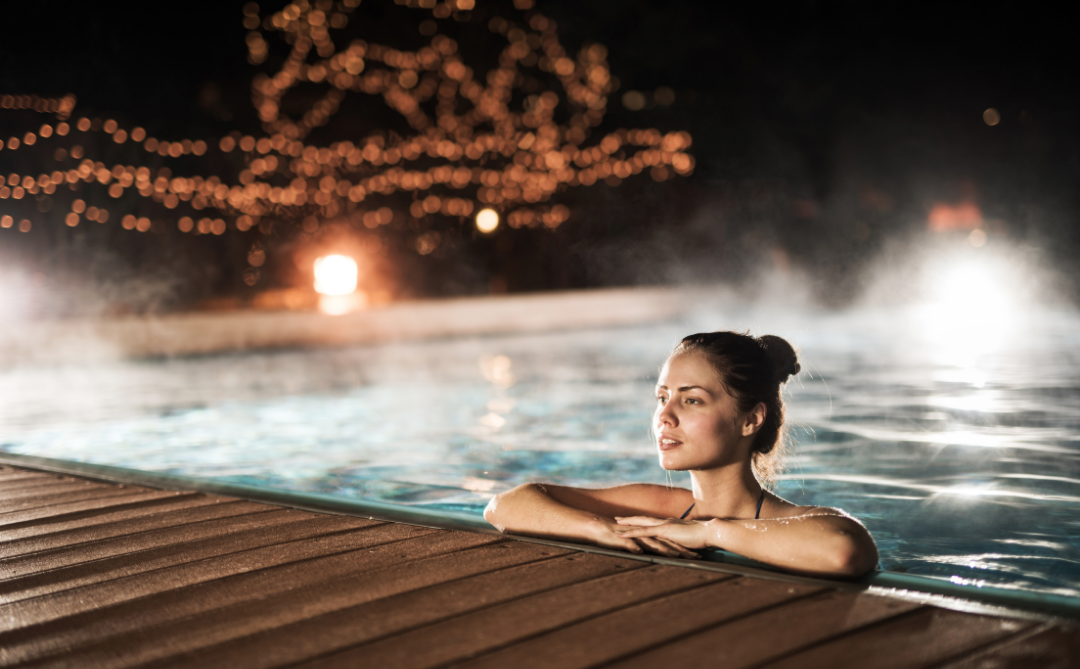 Elevate Vacation - Relax & rejuvenate in our year-round heated pools & hot tubs.
Relax close to home - When you stay with Elevate Whistler, you can enjoy the benefits of our hot tubs, heated pools, and saunas all year round. So if it's simply R & R that you need, then we've got you covered! Take a look at our wide range of vacation homes and condos and seek out one that best suits your style, budget, and needs.
Alpenglow Lodge - Outdoor Heated Lap Pool, Hot Tub, Sauna, Steam Room
Snowbird Townhomes - Hot Tub
Lake Placid Lodge - Heated Outdoor Pool, Hot Tub, Sauna
Northstar - Heated Outdoor Pool, Hot Tub
Enjoy Whistler's Coffee Shops & Cafes
Nothing beats the feeling of a warm cup of fresh coffee in hand, paired with a spectacular mountain vista and the crisp fresh air of Fall. And with Whistler's strong coffee culture, there's no better place to be. From delicious darks to medium roasts, you can be sure to curb your craving at any one of Whistler's coffee shops, each offering a unique atmosphere, preferred beans and menu. Here is a list of our top favourite hot spots you won't want to miss.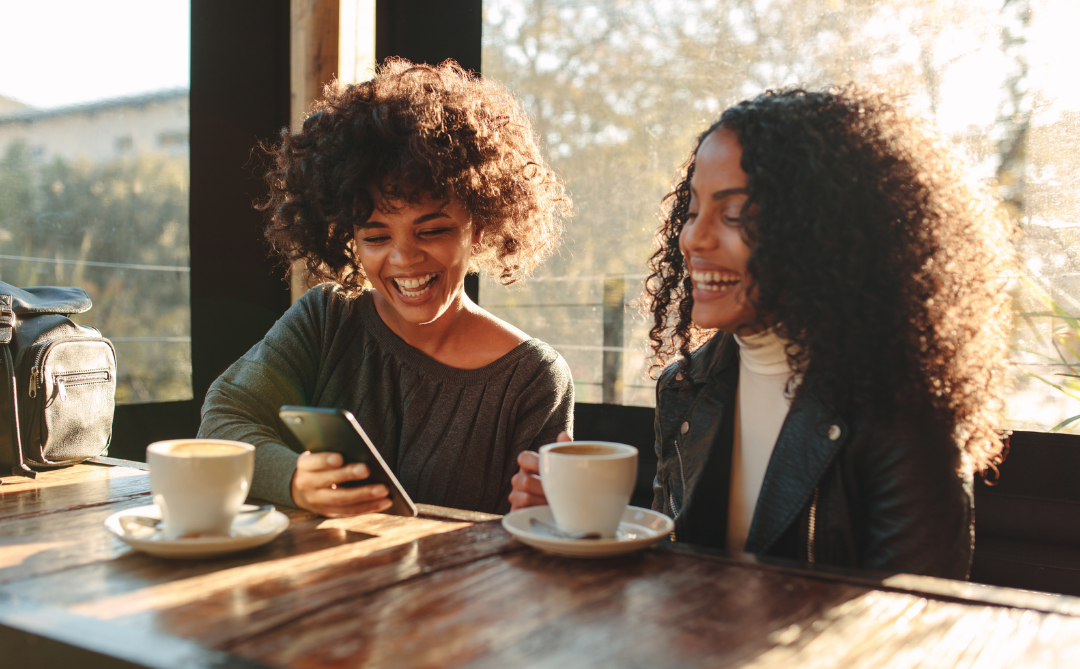 Grab a warm cup of coffee with your friends in Whistler Village.
Mount Currie Coffee Co - Get your coffee fix with their delicious array of warm drinks, baked goodies and food for the soul. They are local and lovely, and their love for coffee and attention to detail shows - Located in the Village North. 
Portobello - A definite must on anyone's list! This beautiful coffee spot, located at the Fairmont in the Upper Village, offers a delicious array of freshly baked goods with your steaming cup of fresh roast coffee - Also known for the best donuts in town! YUM.
Purebread - There's no doubt that the mouth-watering smells of cinnamon and freshly baked treats pouring out through the front door will lure you in! Stop by and grab a warm cup of coffee, the perfect complement to the tasty treasures that lured you in—You can find a Purebread in Whistler Village or Function Junction.
More of our favourites include Cranked, Blenz Coffee and Mogul's Coffee House.
Explore Whistler this Fall. Photo Credit: Table Nineteen/Mike Crane
Undoubtedly, Fall is one of our favourite times of the year. Its spectacular brightly coloured landscapes, crisp fresh air and smaller crowds make for the perfect mountain getaway. We hope our jam-packed itinerary inspires your next adventure with us in Whistler and helps you plan your ideal Fall getaway.
Whistler Lake Placid Lodge, Plan your stay with us this Fall.