Tourism Whistler/Mirae Campbell
Top 5 Whistler Spring Activities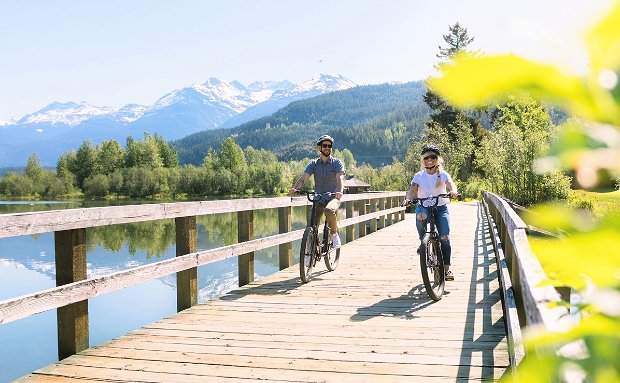 Tourism Whistler/Mirae Campbell
If your ideal getaway consists of both fluffy white snow and days merely relaxing by the pool soaking in that Vitamin-D - I know it sounds crazy!
But as locals will know, Spring has it all, and you will soon find it to be one of your favourite seasons of the year to visit us in Whistler! Not to mention the smaller crowds and the best deals on lodging, dining and, all kinds of Winter and Summer activities ready and waiting for the whole family to enjoy.
Ski-apriés in the Village. Photo Credit: Tourism Whistler/Justa Jeskova
Get The Best Of Both Winter & Summer On Your Next stay.
For some of us, our hearts belong in a Winter Wonderland, and nothing beats strapping on those skis and carving down snowy white slopes. If this is you, then you can be sure to enjoy skiing and riding conditions well into May.
Those who are ready to leave Winter behind and soak in the sunshine while exploring the outdoors, you'll notice the warmer temperatures in the valley quickly melt away the snow, opening up endless opportunities for Spring and Summer sports. From days spent floating down one of Whistler's many lakes to getting in those laps on your cross country our downhill mountain bike, to exploring the vast valley trail network by foot or even playing a friendly game of golf while surrounded by spectacular mountain scenes. The possibilities in Whistler are endless!
Whistler village strolls. Photo Credit: Tourism Whistler/Justa Jeskova
We like to think of Spring as Whistler's 2-for-1 season. All the best of both Summer and Winter activities jam-packed into one experience!
1.Lakes, Parks & Beaches
Spring may seem a little chilli at first, but after a long cold winter, the start of Spring for most of us feels like mid-summer, with temperatures reaching in the mid-teens. And can only mean one thing; Long paddles on thawed out lakes and even longer picnic dates with our nearest and dearest while soaking in the sunshine and enjoying the many lakeside park activities.
Picnic by the lake. Photo Credit: Tourism Whistler/Mirae Campbell
Love to paddle? We got you! Easily rent a Kanoe, kayak, or stand-up paddleboard and head out onto Alta Lake. Or go on an extended river adventure with a guided tour discovering Whistler's abundant wildlife while taking in the magnificent mountain views that will surround you as you float down the River of Golden Dreams.
Exploring Whistler's lakes and rivers by canoe. Photo Credit: Tourism Whistler/Mike Crane
And if adrenalin is your game! We would suggest a heart-pumping Whitewater rafting excursion with The Adventure Group. 
Picnics and lakeside activities are a great way to get the family outside and enjoying the cool, clear mountain air. Here are some of our favourite local spots: 
Lakeside Park: Located at Alta Lake, it is just a short distance from the Village. Featuring sandy beaches, two docks, canoe and kayak rentals, kids play area, picnic tables, and BBQs making it the perfect spot for a day spent with the family.
Rainbow Park: Located on the west side of Whistler Valley and the far side of Alta Lake, it offers spectacular mountain views of Whistler and Whistler Blackcomb. If team sports are your entertainment choice, you can enjoy beach volleyball courts and wide-open spaces.
Lost Lake: This serene and relaxing lake set in a stunning forested park is only a short walk from Whistler Village. It is a great place to bring the family after checking out the Family Adventure Zone at the bottom of Blackcomb Mountain.
Beaches and lakes in Whistler. Photo Credit: Tourism Whistler/Mike Crane
2.Exploring Whistler By Foot, Wheels & Pedals.
Spring means no more cars and many more adventures to be had by foot, wheels or pedals. As the snow gradually melts away, Whistler's Valley Trail network comes to life with walkers, runners, cyclists of all kinds, and even rollerbladers. Whatever your mode of transport is, you can be sure to enjoy some of the most picturesque locations and scenic views winding its way through Whistler, connecting various neighbourhoods, lakes, viewpoints and picnic spots.
Don't have a bike? Not to worry, you can rent a bike from various locations in the Village, including a chariot for the littlies to join you on your longer journeys.
Biking along the Valley Trail network. Photo Credit: Tourism Whistler/Blake Jorgenson
Whistler offers many cross-country mountain biking opportunities, from XC, all-mountain, enduro and trail riding. If you love to pedal, then Whistler's the place to be. Explore easy green trails to endless technical ascents and descents through old-growth rainforest and alpine meadows.
Be sure to keep up-to-date with the WORCA website for local trail conditions, and remember the Whistler Mountain Bike Park opening is usually mid-May.
3.World-Class Golf
Enjoy the wide-open spaces and endless mountain views at any one of Whistler's four major championship golf courses dotted through the valley. Each perfect playground offers various sets of tees to give every level of golfer an ideal sense of challenge and enjoyment. The expected opening date is in May.
Whistler golf. Tourism Whistler/Justa Jeskova
Each of Whistler's golf courses has its specific regulations and guidelines, and you can find their latest Covid-19 rules on their websites.
4.Hiking Adventures
Hiking in Whistler has to be one of the topmost loved activities to do all year round. From Winter to early Spring, locals and visitors alike are seen strapping on their snowshoes to venture out into the old-growth forest for a winter wonderland hiking experience. In contrast, the warmer temperatures in the valley make for a prime opportunity to explore the vast Valley Trail network that features over 40km of explorable terrain with beautiful views of Whistler's lakes, mountains and golf courses. Here are a couple of our favourite Spring trails:
The Lost Lake Hike offers a wide variety of well-marked easy trails starting from Whistler Village and brings you to a beautiful small lake. As you venture through the lush West Coast rainforest, you'll find yourself surrounded by breathtaking views of Blackcomb and Whistler Mountains.
The trail up to Cheakamus Lake is an all-time favourite in the Springtime, with a relatively flat hiking trail that brings you to a massive and secluded mountain-lined lake, boasting stunning views. Perfect for a family picnic with the kiddies or a comfortable backpack.
Hiking in Whistler. Photo Credit: Tourism Whistler/Mark Mackay
5.Black Bear Tours
If your planning to visit us in Whistler, there is no doubt that spotting one of Whistler's famous bears and cubs in their natural surroundings is on the very top of your to-do list. Venture into the wild as you travel in style in a 4x4 vehicle with Whistler Photo Safaris to bear viewing areas, feeding sites, daybeds and dens. It's important to note that although these furry friends seem to look cute and cuddly, they are wild animals and require their space. Tours typically run from April/May.
Whistler's local Back bears and cubs waking up for Spring. Photo Credit: @thetiasha
Whistler encourages locals and visitors alike to be "bear aware," and a big part of that is not approaching or feeding them.
A 'Must-do' Whistler Bucket List
And only because it seems to be impossible to narrow our top Whistler activity list down to a solid five, We have added in some of our favourite adventures that are a must on anyone's Whistler Spring Bucket list!
Ziplining through the wilderness with The Adventure Group. Photo Credit: Tourism Whistler/Justa Jeskova
...And the adventures don't stop there! Take a sneak peek at our Whistler activity list for both Spring and Summer fun.
Between the biking, the early season hiking, the paddling, the skiing, and all of the above! You will need to give yourself plenty of time to play in Whistler's unlimited adventure-packed duel season.
For more information on what's open in Whistler, please take a look at the Doors Open Directory, or speak to one of our friendly team members who would be happy to assist you with any questions you may have.
REMEMBER: Stay safe, play safe and wear a mask while on your Whistler adventures!
Don't miss out, book your Spring stay Today!