Thanksgiving, The Whistler Way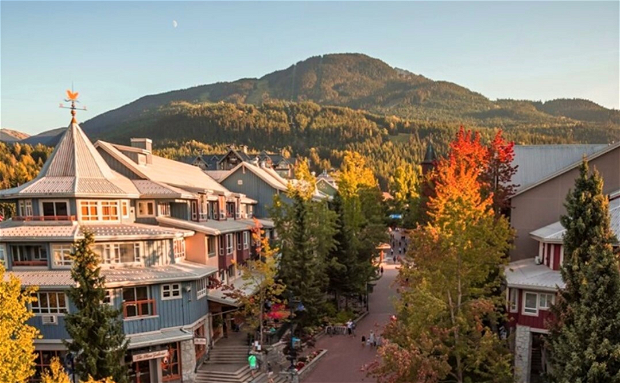 Make your Thanksgiving extra special this year! Thanksgiving Long Weekend in Whistler: October 8 – 11, 2021.
Yes, Halloween has candy, Christmas means presents, and Fourth of July got dibs on fireworks, but it's Thanksgiving that's really one of our favourite holidays out of them all. Thanksgiving in Whistler is a time to reconnect with family and friends, count our many blessings, and most definitely a time to stuff those bellies with delicious turkey feasts, connect with nature on many outdoor adventures and gear up for winter with the epic annual Turkey Sale.
Whether you're heading to Whistler for Thanksgiving weekend or plan to extend your stay and enjoy a much-needed holiday, here are some of the best all-weather fall activities, family-friendly entertainment and traditional Thanksgiving feasts - You won't want to miss it!
Thanksgiving Long Weekend in Whistler. Enjoy your Thanksgiving feast with friends and family.
THE FOOD (OF COURSE)
A big part of Thanksgiving is the act of sitting around a table sharing a special meal with your closest friends and family. While most of Whistler's restaurants offer a traditional Thanksgiving dinner, many of us prefer the privacy of being with family in a more homely environment - We've got you covered!
Delicious Thanksgiving Dinners and Feasts by Fridge Full Whistler - Now taking orders.
Spend more time relaxing and less time cooking with delicious, ready-to-go meals and groceries delivered directly to your door while on your stay. Book a no-fuss Thanksgiving feast from Whistler Fridge Full, and enjoy a delicious roast turkey with all the trimmings to make you feel right at home.
>> View Full Menu & Book Your Thanksgiving Feast - Order Now!
All dinners must be booked in advance and are subject to availability. Gluten-free and vegetarian options are available too.
Remember to let the people at your Thanksgiving table know that you're grateful for them above all else.
WEEKEND ITINERARY
There's always something on the go in Whistler, and your Thanksgiving stay is the perfect opportunity to take advantage of the non-stop lineup this season has to offer.
Family fun in Whistler Village this Thanksgiving. Photo Credit: Tourism Whistler/Justa Jeskova
Enjoy a great family day out with roller-disco for kids, axe throwing, music, open spaces, a snack at the Whistler Farmers' Market and family-friendly entertainment in the Village. Or make the most of Whistler's craft beer month with its jam-packed beer-themed itinerary. 
Enjoy a delicious beer-infused breakfast feature at Stonesedge Whistler on Oct 8th. Book a mouth-watering slow-roasted beer and chicken feast at Longhorn Saloon & Grill or a deep-fried, roasted turkey with all the fixin's at Stonesedge on Oct 10th, from 5:00 pm. And get in on the action for a round of 'Beer Bingo' at Tapley's on Oct 12th, from 7:00 pm.
Annual Whistler Writers Fest. October 14-17th. Photo Credit: Tourism Whistler/Mirae Campbell
And if you're sticking around for a longer stay and you class yourself as a book worm, the Whistler Writers Fest from Oct 14-17th is the event for you. Meet top Canadian and international authors, attend various workshops, speaker panels, readings, and enjoy evening events with many great readers and writers alike.
FALL ADVENTURES & ACTIVITIES
From the peaks to the valley, fall offers an abundance of activities and stunning scenery. Take in the fresh mountain air, see the bright fall colours up close and go on an outdoor adventure with your friends and family.
Explore Whistler Valley on an ATV Tour. Photo Credit: Tourism Whistler/Justa Jeskova
Take in the breathtaking fall scenes as you zip across the valley with a thrilling ziplining experience. Explore the backcountry while venturing through the rugged terrain on a heart-pumping RZR or ATV tour, and if that's a little too wild for you, the 4X4 guided tour would be a perfect mountain adventure offering some of the most spectacular alpine views.
Explore the Whistler Valley trail network. Photo Credit: Tourism Whistler/Justa Jeskova
Whistler's Valley Trail only gets more beautiful as the leaves begin to turn and the fluffy white snow slowly creeps down the mountain peaks. Walk or ride, either way, you can be sure to enjoy some of the most spectacular mountain scenes as you explore the extensive hiking and biking trail network that weaves its way through Whistler, connecting the community, lakes and steller viewpoints.
Some other exciting activities include Whistler's multimedia night-walk at Vallea Lumina. Taking in the world-class historical and contemporary art at Audain Art Museum or Squamish Lil'wat Cultural Centre. Relax and rejuvenate at one of Whistler's luxury spas. And for an extra dose of family fun, throw axes like a Canadian at Forged Axe Throwing. See all of Whistlers' adventures and activities.
For a deeper dive into all the fun-filled itineraries and activities fall has to offer, read our latest Whistler blog to help you plan your idyllic getaway - Get The Best Of Whistler This Fall.
DEALS ON GEAR
Turkey Sidewalk Sale Whistler. Photo Credit: Tourism Whistler/Justa Jeskova
As the seasons shift and our thoughts begin to turn to snowy ski days ahead. Thanksgiving weekend is the perfect time to take advantage of the Turkey Sidewalk Sale throughout Whistler Village. Shops offer great deals on snow gear and early-season discounts on everything to get you kitted for winter at the best prices. Keep dreaming and planning for those perfect powder turns! Take a look at the shops on Whistler's guide.
At Elevate, we believe in creating unforgettable Whistler vacations that bring people together and inspire them. It's our mission to provide a sanctuary, a place where you feel right at home, complete with all the luxuries you desire while on your stay. This year, and every year, we're thankful for all our owners, guests, and incredible Elevate team and the amazing relationships we're so fortunate to build with each and every one. Thank you, and we hope you have a wonderful Thanksgiving.