Get Your Christmas Spirit On In Whistler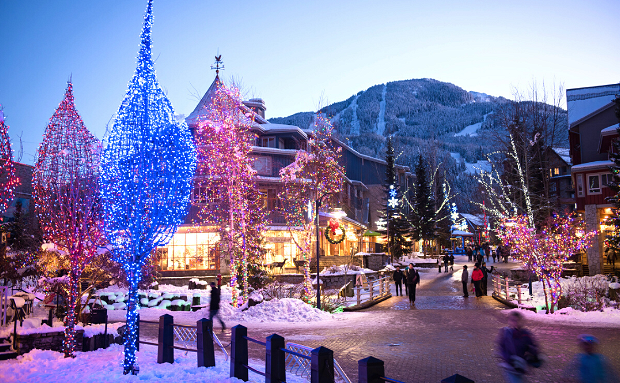 The snow is falling, the fire's crackling, and the holiday excitement has officially settled in. From Whistler's all-out annual seasonal lights and holiday décor displays made up of thousands of twinkling lights to a diverse range of holiday entertainment and activities like ice skating, festive performances and more, Whistler has everything you need for an unforgettable Christmas holiday.
Here are a few ways to get into the festive spirit this December in Whistler…
Festive Lights Tour. Photo Credit: Tourism Whistler/Justa Jeskova
Experience Whistler's festive glow as you go on a self-guided light tour through the Village to see some of the most spectacular twinkling light displays on the trees and buildings; you'll feel like you're walking in a real-life snow globe. These tours are best experienced from 4 pm onwards.
Festive Ice Skating. Photo Credit: Tourism Whistler/Justa Jeskova
What's a snow season without a night of twinkling lights and a few laps around the ice rink? Enjoy ice skating under the stars at Whistler Olympic Plaza. Bring your own skates or rent some, and head out onto the ice for some fun. They open seven days a week, 11 am - 8:30 pm and closed for hours maintenance, so be sure to check the schedule. 
Multimedia Adventure Hike. Photo Credit: The Adventure Group
Tis the season for a little bit of mountain magic - Our friends at Vallea Lumina have the perfect winter journey for the whole family to enjoy. Wonder through the magical forest of stardust, mystical bears and hidden wonders as you are transported to another world. This multimedia light show is on nightly. To learn more or book, visit: www.vallealumina.com
Family Fun Snow Zone. Photo Credit: Tourism Whistler/Justa Jeskova
From ski boots to sleds, the Snow Zones at Whistler Olympic Plaza and Rebagliati Park is just a short walk from your stay and is the perfect family fun-filled activity. Enjoy zipping down snowy lanes on toboggans, ice skating under the twinkling lights, to a Sugar Shack and live local musicians, and so much more!
*Save up to 25% on our selected Whistler Winter activity and adventure Partners. Offer only available to Elevate Vacations guests.
Thinking Christmas Feast?
Enjoying a delicious Christmas Feast with family & friends.
Nothing brings family and friends together like a mouth-watering festive feast over the holidays. Being away from home doesn't mean you have to miss out on a traditional holiday dinner. You can enjoy a delicious dinner with all of the fixin's at a local restaurant, or take it to-go to enjoy from the comfort of your vacation 'home'. Be sure to book your Christmas Dinner reservation in advance to avoid disappointment - Open Table Directory. And if you're looking to order in, we suggest that you take a look at to-go Christmas dinner options from Whistler Cooks.
Save The Date - Whistler's Festive Events & Activities
Christmas Carols. Photo Credit: Tourism Whistler/Mike Crane
December 10: Christmas carols at Holiday Singapalooza - Join us in a fun Whister holiday tradition as Barbed Choir leads everyone in some holiday favourites. Entry by donation. All cash and digital donations support the Whistler Food Bank. Location: Maury Young Arts Centre, 7 pm.
December 11: Drum Making Workshop - Get creative and learn to make your own 10-inch drum in this workshop at the Squamish Lil'wat Cultural Centre. The workshop includes a welcome song, short film, admission to the exhibits, and lunch in the Thunderbird Café. Places are limited, and registration is required.
December 12: Whistler Singers "Winter Lights" Performance - The Whistler Singers community choir celebrates the season in song. Admission is by cash donation, and proof of vaccination is required. Location: Our Lady of the Mountains Church, 7 pm.
December 16: Laugh Out LIVE comedy nights - Enjoy a night at the theatre of unadulterated fun with hilarious, loose and lewd comedy every Thursday evening. Suitable for ages 19+, tickets, vaccine proof, and government-issued ID required for entry. Location: Maury Young Arts Centre, 7:30 pm.
December 17: First Nations Winter Feast - Experience a delicious Indigenous-inspired winter feast. A culinary journey at the Squamish Lil'wat Cultural Centre blends traditional ingredients and food preparation with modern plates. Doors open to the Great Hall at 5:15 pm. For more info and tickets.
Santa's in Town. Photo Credit: Tourism Whistler/Mike Crane
December 18 - January 3: Sugar Shack Characters & Holiday Photos - Get your family photos with Santa and many other special characters in front of the holiday-decorated sugar shacks at Whistler Olympic Plaza, from 3 - 5 pm.
December 19: A Winter's Song Concert - Join our talented musicians in a magical winter concert of flute, voice, and harp combine to celebrate the festive season. Entry by donation. Location: Our Lady of the Mountains Church, 7 pm.
December 19 - 23: Live & Local Music - Enjoy a series of festive outdoor performances with some of Whistler's best musicians and singers performing every afternoon for a week at Whistler Olympic Plaza, 3 - 5 pm.
Happy New Year's. Photo Credit: Tourism Whistler/Mike Crane
December 31: Whistler's New Year's Eve Celebration - Say farewell to 2021 and ring in the New Year in Whistler Village at a free celebration of lights, sounds and activities. There is something for everyone from family-friendly shows to raucous parties in the Village. Stay tuned for more details.
The festive season in Whistler is an incredibly magical time of the year, from endless outdoor adventures, apres-ski, live entertainment and an array of Christmas-themed activities running all month long that will fill your holiday itinerary. Remember to plan in advance, make your dinner reservations, and book your tickets before you arrive because, like you, we are all a little excited for a bigger and better celebration this year!
Wishing you and your loved ones a Happy Holidays!