Whistler Winter Wonderland - Plan Your Perfect Holiday Itinerary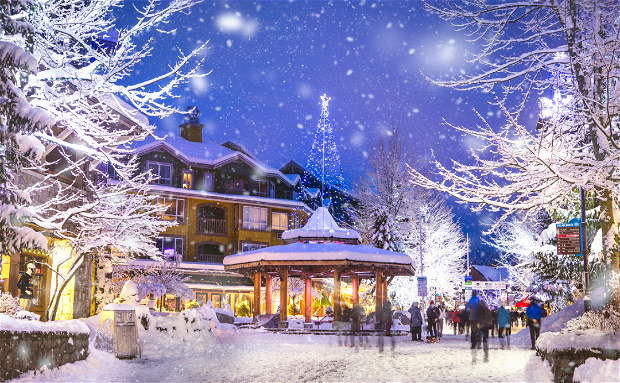 Tourism Whistler/Justa Jeskova
Don't miss another snow season at North America's biggest and best ski resort! As we welcome fully vaccinated and international travellers back to Whistler for an unforgettable getaway, we have put together some of the top highlights you can look forward to this season.
From epic skiing and snowboarding to celebratory events and activities in the Village, with an endless menu of outdoor adventures right on your doorstep - We guarantee a vacation like no other this festive season.
For The Thrill Seekers - 3 Ways to Get a Buzz This Winter.
Epic thrills of bobsleighing. Photo Credit: Whistler Sliding Centre.
Located above Whistler Village on the side of Blackcomb Mountain, the Whistler Sliding Centre is a world-class bobsleigh, skeleton and luge facility. Slide like an Olympian through 10 twists and turns at speeds of 125+ km/hr in a real bobsleigh, or slide solo on your own skeleton sled. This unique but exhilarating experience is a must on anyone's list!
Superfly Zipline Tours. Photo Credit: The Adventure Group
Soar through the air on an exhilarating, heart-pumping, high wire adventure at The Adventure Group Superfly Zipline tours. This scenic experience allows two guests to zip through the air side-by-side on multiple dual zip-lines, each on their own cable, while taking in the wide-open spaces and breathtaking views of Cougar Mountain.
Snowmobile Tours. Photo Credit: Canadian Wilderness 
Get out for a rip on these powerful machines through the pristine Callaghan Valley for a fabulous introduction to the backcountry by snowmobile or ride through thickly forested trails and explore frozen lakes while taking in the breathtaking views of Whistler Blackcomb. Choose from Canadian Wilderness and the Adventure Group, each offering a wide range of tours to suit your adventure thrills.
Skiing and Snowboarding on Whistler Blackcomb
And if that's not enough, shredding Whistlers powder slops from the peaks of Whistler Blackcomb will be sure to get your heart racing this season. 
Whistler Blackcomb skiing. Photo Credit: Destination Canada/Grant Gunderson
What happens here is big mountain skiing and snowboarding, the kind you only see in the movies. And if powder in the face, graceful, arcing turns on long, vertical descents and cliff drops with pillowy landings sounds too daunting for you? Then you can take comfort in knowing that Seventy-five percent of Whistler Blackcomb's terrain is green and blue, perfect for beginners and intermediate. This means you can go at your own pace and work your way up to those powder turns while taking in the stunning views of the Coast Mountains.
Book your Whistler Blackcomb lift tickets or buy your day pass here: www.whistlerblackcomb.com
Sightseeing for Non-Skiers
No planks? No problem! The idea that you need to ski or snowboard to experience mountain life is a thing of the past. Grab your snow boots, winter layers and get ready for panoramic views of mountain vistas, delicious wine tasting above the clouds, Olympic legacies, and glass-bottomed gondola rides. Here's a great list to get you going on your mountain sightseeing for a non-skiers experience in Whistler.
PEAK 2 PEAK 360 Experience. Photo Credit: Tourism Whistler/Mike Crane
Enjoy stunning panoramic views of Whistler Village, mountain peaks, lakes, glaciers & forests on the  PEAK 2 PEAK 360 Experience. Tickets cover you for access to the entire gondola system; this includes Whistler Village Gondola, Blackcomb Gondola and the PEAK 2 PEAK Gondola, a continuous lift system stretching a whapping 13.5-kilometres.
On-mountain, sightseeing spots include the Olympic rings and flags, the Olympic Legacy Display, which showcases local athletes' achievements and highlights from the 2010 Winter Olympic and Paralympic Games. Be sure to snap the perfect Insta-worthy inukshuk monument (The Inuit and North American people from the arctic regions use these stone landmarks for guiding and marking areas.)
Dining In The Clouds
On top of the world dining. Photo Credit: Tourism Whistler/Ben Girardi
The perfect on-mountain dining experience complete with stunning views, we recommend any one of the below options;
The Roundhouse Lodge is one of the most renowned restaurants on the mountain and offers three different food court-style areas. You can enjoy everything from your standard burger and fries to curries, deli-style sandwiches, soup, chilli, pizza, and so much more. 
If you are looking for a more upscale dining experience, look at Steeps Grill & Wine Bar. They have a farm-to-table approach to their menu and wine list, featuring local growers and producers. 
The Rendezvous Lodge has a mountain top wok station, drool-worthy burgers, and a fresh Mexican counter where you can get burritos, tacos and salads...YUM!
Off The Slopes Outdoor Activities
Festive Ice Skating. Photo Credit: Tourism Whistler/Justa Jeskova
Looking for outdoor activities and magical views of Whistler Village, mountain peaks, lakes, glaciers & forests, but skiing is not for you? Don't sweat; we have the perfect adventure for you. 
Whether you want to try ice skating at the Olympic Plaza under the twinkling lights, go on a multimedia adventure hike filled with magic at Vallea Lumina, discover the charm of Whistler Village, or simply relax and enjoy a unique winter wonderland experience at Scandinave Spa - The possibilities are endless. 
Use our guide to the best winter activities and plan your perfect vacation: Whistler Winter Activities
Winter Village Dining & Aprés
Après-ski. Photo Credit: Destination Canada/Grant Gunderson.
Try something new every day with Whistler's endless menu of diverse dining scenes. From casual après-ski snacks to award-winning fine dining restaurants, many featuring organic, locally-sourced ingredients. For a complete list of dining options, look at the Open Table Directory for all available restaurants and enjoy festive dining in the Village or a holiday meal kit to go - Be sure to make a reservation before you go.
Whistler is the perfect place to experience a true Canadian Christmas and family vacation, with twinkling lights throughout the snow-covered Village and an endless menu of holiday events and festive activities to entertain the whole family. We're certain you'll experience a wonderful stay in Whistler this holiday season.
*IMPORTANT TO KNOW*
Although the mountains are open, with so much room to play, it's important to note that we will all have to adventure this winter season differently. Travellers from across the world will need to plan in advance, do their research, and pack their patience. 
We have compiled an easy list to help you book and plan in advance so that there are no unexpected surprises while on your vacation in Whistler.